September 27, 2012
Mobile Partners
A showcase of select healthcare marketing and media companies that offer mobile capabilities, comprising a concise profile of each, with details of their services and offerings, areas of expertise and examples of their work. Each company profile features a section of convenient "Fast Facts," such as contact information, company size and client roster.
group DCA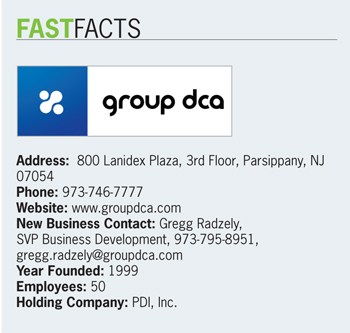 Company Profile
Group DCA is a leading provider of direct-to-physician digital solutions, providing pharmaceutical and biotechnology companies with powerful channels to advance the interactions between pharmaceutical brand teams and healthcare practitioners. When deployed on an iPad or other tablet PC, Group DCA's programs provide field-sales representatives with point-of-contact and follow up tools, interactive content and important insight into their targets attitudes and preferences.
Group DCA and its business units leverage the strengths of the Internet, multimedia, mobile devices, tablet PCs, dimensional direct mail, and proprietary software called DIAGRAM™ (DIAlog, GRAphics, Motion) to enable healthcare providers' to access information online and on their own schedules. DIAGRAM is the only software in the industry that enables clients to engage target audiences through a graphics-rich interface, capture response data, and use these data to customize future communications, making them more relevant and effective.
Services and Offerings
• Direct-to-physician marketing
• Digital promotion, including eDetailing
• Mobile marketing
• Interactive marketing
• Multi-channel marketing
• DIAGRAM™ software & interface
• Field-sales integration (iPad / tablets)
• Active eLearning
• Direct-to-patient marketing
• Cue card – patient support programs
Awards and Recognition
• MM&M Awards—Gold, Best Interactive ­Initiative for Healthcare Professionals (2008, 2006)
• MM&M Awards—Silver, Best Interactive ­Initiative for Healthcare Professionals (2010)
• MM&M Awards—Finalist, Best Interactive Initiative for Consumers (2009)
• PM360 Trailblazer Innovation Award ­Finalist—Best Company of the Year (2010)
• PM360 Trailblazer Innovation Award ­Finalist—Best Interactive Marketing (2010)
• NJ Ad Club—Product Information, Business to Business, 1st, 2nd and 3rd place (2010)
• NJ Ad Club—Product Information, Consumer, 1st place (2008, 2007)
• Ad Club of New Jersey Certificate of ­Excellence (2007)
• Rx Club Award of Excellence (2008, 2007)
• Communicator Award of Distinction (2011, 2009, 2008)
• Inc.—5,000 Fastest Growing Companies (2010, 2009, 2008, 2007)
• Frost and Sullivan Award for Product ­Innovation (2005)
Klick Health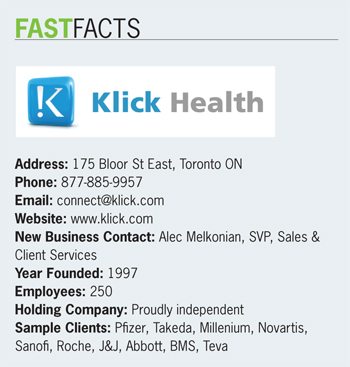 Company Profile
Klick Health is the world's largest independent digital health agency. Founded in 1997, we're a full-service digital marketing agency. We're laser focused on health, with in-depth leadership and experience across more than 20 therapeutic categories. We work with a variety of clients, including pharmaceutical, diagnostic, medical device, and managed care companies.
Services and Offerings
If it's digital, we do it.
With practice areas in Mobile, Media, IA/UX, Brand, Editorial, Creative, Social, Web/App Development, Hosting, Analytics, CRM, Learning, and Strategy, our team of 250 digital health experts orchestrate simple solutions that work with MRL and IT to reduce your hassles as well as improve your ROI.
iCONNECT, Klick's suite of sales based iPad apps, is designed to make every rep as good as your best rep. From training to pre call planning to detail to post call analysis, iCONNECT offers an amazing creative canvas with stunning analytics and rock solid compliance.
Our custom mobile solutions include:
• Smartphone and Tablet App Design and Development
• Mobile Web Design and Development
• Real-Time Analytics Measurement, Reporting, Integration
• Next Generation Interactive Content
• Geo-Targeting / Location Services, i.e. Point of Care, Out of Home
• Mobile Device Management and Support
• M-Commerce
• Social Media Integration and Listening
• Mobile Ad Unit Creative and Development (Rich Media, HTML5, Smart Ads, Smartphone/Tablet)
• Mobile SEO/SEM
• Mobile Couponing and Loyalty Programs
• SMS Strategy and Content

Case Study
When Millennium rolled out iPads to their field force, they turned to Klick Health for help on the software and creative. The results were immediate and amazing. "On average our field sales staff has gained an additional 5 to 10 minutes of face time when utilizing Klick's Health iPad solution with Health Care Professionals." ~ Bill Hyden, North Area Sales Director, Millennium.

If you'd like to increase the amount of time your reps spend with HCPs, get in touch at klick.com.
MPR App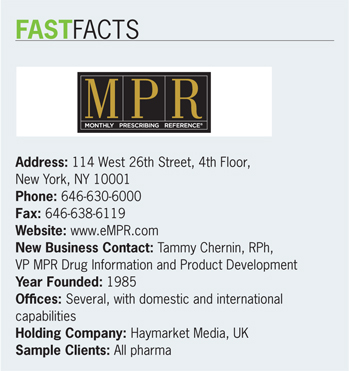 Company Profile
MPR has been providing healthcare professionals with concise drug information since its 1985 launch. We are experienced and accomplished in reaching all healthcare disciplines and in delivering content to them in the format they prefer—mobile, web-based, and print. We build long-term, trusting partnerships with our clients in the pharmaceutical industry to deliver programs that are appropriately targeted and focused. MPR, as a well-recognized and respected brand, offers effective distribution channels to over 500,000 clinicians.
Services and Offerings
Our App includes up-to-date drug monographs for over 4,200 Rx and OTC products. The MPR App is compatible with iOS, Android, Windows7, Kindle Fire, and BlackBerry platforms and can be accessed anytime, anywhere, without Internet connectivity.
The MPR App has over 220,000 downloads and averages over 930,000 monthly page views with 243,500 active app launches each month. Free download of the App is available through www.eMPR.com.
Key services include:
• MPRxPress Alerts: Concise messages announcing product updates delivered to the user's Inbox and promoted through prestitial ads and push messaging notifications
• Run of App advertising targeted by profession or specialty
• Omniture metrics package provides real time stats
• Double-click integrated
• Contextual opportunities delivered at the point-of-care
—Section/Subsection/Monograph page ponsorship
—Enhanced monograph listing
—Therapeutic Subsection Takeover
—Keyword search

Additional key features include:
• Drug interactions checker for nearly 7,000 agents
• Medical Calculators
• Daily news and safety alerts
• Smart Search index by therapeutic use, brand or generic name
• Manufacturer drug search

The MPR App and MPR family of products in print and online reach clinicians during their daily workflow in their desired medium with delivery of up-to-date, accurate drug information, news, clinical tools, and content to assist with making informed prescribing decisions.
The Oncologist
Company Profile
Published by AlphaMed Press, The Oncologist® is the premier independent oncology journal at the intersection of research and clinical practice. The Oncologist is designed specifically for the busy practitioner, focusing on medical and practice issues for physicians entrusted with cancer patient care. The Journal's peer-accepted articles impact the practice of oncology and facilitate the introduction and application of new medical advances.
AlphaMed Press and The Oncologist are fully committed to delivering the information that physicians need, in the most convenient and accessible formats possible. Journal content is available via mobile applications for iPad, iPhone, Android, and Kindle Fire, featuring global expert on-demand video presentations and CME activities designed to change competence, performance, and ultimately patient outcome.
The Oncologist App
The Oncologist HD App for the iPad allows users to browse digital journal pages — accessing an archive of critical articles in seconds. Additionally, with integrated rich media features, the journal's clinical content is dramatically enhanced beyond what is possible in the traditional print edition. Physicians can download podcasts of journal articles, as well as a library of content from congresses, symposia and roundtables of respected oncology experts. By offering the best of The Oncologist on the iPad, physicians can now read or listen to clinical information on their own terms — between patients, during their commute, or at home.
Also, this dynamic platform gives advertisers the ability to connect with audiences like never before. The Oncologist App offers an industry-exclusive, interactive advertising platform to educate physicians on the complex ecosystem of oncology pharmaceutical companies, disease states and brands. These microsites enable the user to navigate and interact with product-specific multimedia content including efficacy, study design, safety, dosing and MOD/MOA. It also allows marketers to deploy surveys, quizzes, games and event registration.
Services and Offerings
AlphaMed Press partners with clients to build a comprehensive, interactive marketing program to optimize exposure and engagement.
• Brand and business unit interactive ads
• Opt-in product information directly emailed from App to users
• Centralized distribution
• Insightful analytics
Scroll down to see the next article