June 01, 2012
Stanford Med gets app for its alums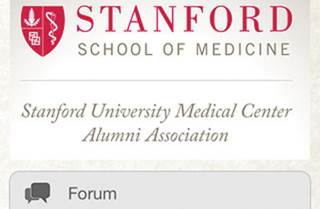 Doximity announced that it is creating an app just for Stanford Medical School students and alumni. The app lets students and alumni connect as they would through normal alumni channels, but with the freedom to communicate in a HIPPA-safe environment, a security measure that is lacking from the main Stanford alumni network.
"Medicine is the quintessential team sport. It's the place were you need collaboration more than most industries," said Jeff Tangney, co-founder of Doximity and former Epocrates CEO. Tangney says the idea to make a student-alumni network within Doximity came from a Stanford grad who had to cut ties with Facebook because his employer was worried about the potential of employees discussing patients in a nonsecure environment.
He said students are members of the larger Doximity network but will also enjoy membership in this Stanford network. It's a connection members won't age out of, he said.
"You remain an alum forever," he joked, "particularly in the eyes of the development office."
Much like Gmail, which offers its email platform to universities, Doximity will offer its student/alumni app to medical schools on a case-by-case basis. Tangney said Stanford got rolling once a student reached out to Doximity, and Stanford is paying the company an undisclosed amount for the service. Tangney said Doximity has more as-yet undisclosed universities "in the queue."
Tangney said Doximity offers the privacy doctors need and the mobility they want. Although Doximity has a website, Tangney said that most of its users use the network when they aren't tied to a desk, and that it was designed for that purpose. "If you try to use Facebook groups on the mobile app or LinkedIn groups it's pretty onerous. So I think being mobile first is the new angle here."
In addition to charging for the university app, the Sermo competitor plans to make it pay by acting as a matchmaker between doctors and medical and Wall Street researchers. The network had 50,000 members as of April 18—10,000 more than it had March 20—a growth rate Tangney confirmed.
Scroll down to see the next article