November 30, 2012
Text4Baby targets moms-to-be with lullaby campaign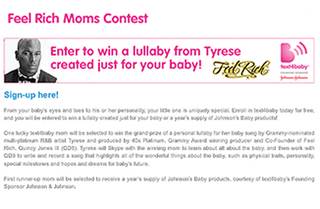 The free mobile pregnancy and health program, Text4Baby, has traditionally been promoted to moms through government programs and health insurance companies, but a new campaign is changing things around by trying to reach moms online. The first push of the approach is a contest being promoted on the lifestyle site Feel Rich, which was co-founded by Emmy-winning producer Quincy Jones III, aka QD3, as well as on GlobalGrind, Essence, Vibe, AllHipHop and MadameNoire.
Text4Baby Director of Marketing and Communications, Tamara Grider told MM&M that the goal is to reach more moms by making the program relevant and engaging. To get moms to sign up, there's the lure of a prize: enroll and you could end up with a lullaby written and sung by artist Tyrese Gibson and produced by QD3.
"Tyrese and I were both raised by single mothers and saw firsthand the need for a service like text4baby," QD3 said in a statement.
Feel Rich CEO Sean Ullman wrote under the fitness tab that text4baby fits with the site's mission to make "every 'hood around the world healthier" and that the service is effective because it "is customized and timed to a women's due date or date of their baby's birth."
Feel Rich is promoting the contest on its YouTube channel and through its social media network. Feel Rich is also promoting the program on the site itself, with placements that frame the site and with a QD3 video on the home page.
Grider said that the contest is just one part of an overall awareness and enrollment campaign that includes a December 8 Baby Shower/Health Fair event in Houston. She said more promotions are scheduled for 2013.
Scroll down to see the next article