March 06, 2015
The Future of Commercial in a Global Multichannel Marketplace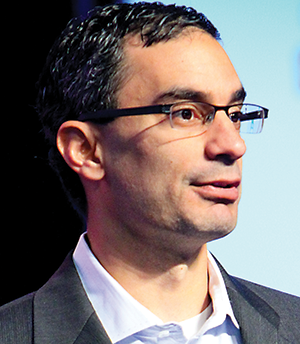 In an increasingly global marketplace, the challenge facing life sciences companies to harmonize their operations for maximum efficiency is greater than ever. This growth in commercial opportunities is paralleled by an explosion in communication channels between healthcare organizations and stakeholders.
Veeva Systems recently hosted an industry roundtable in Barcelona to share perspectives on how life sciences leaders are using data and technology to meet growth objectives and strengthen relationships with a diverse, growing customer and patient base. Each discussion focused on disruptive innovations shaping life sciences, and how to turn regulatory realities into competitive advantage.
Panelists from both sides of the pond debated how a new drug's route from laboratories to hospitals is being transformed by rapid developments in technology. Experts agreed that the companies who will gain advantage tomorrow are recruiting smart data collectors today. From improving compliance and reputation through transparency reporting to optimizing customer interactions, enterprise-wise data analytics are at the center of a variety of efforts to unlock new value in the global sales and marketing of new therapies.
Transforming business operations as the digital world takes over
The dialogue centered on the pivotal question of whether life sciences companies need to radically reinvent themselves in order to gain competitive advantage in today's multichannel global environment. Across all industries, companies will benefit from quickly harnessing the power of emerging communication channels to better engage customers, gain more insight, and identify new efficiency savings.
For Nestle Nutrition, a leading supplier of natal and antenatal health products, the business challenge is to remain focused on the end customer, while navigating changing regulatory environments and a head-spinning number of new digital and non-digital engagement and communication channels. In response, the company has put compliance and transparency at the heart of its commercial and IT strategy for 2015 and beyond. Additionally, it is migrating to a cloud-based enterprise environment that integrates customer interactions across all channels (both personal and non-personal), customer master data and content, thus providing a single snapshot of the customer.
"In a business like ours, face-to-face interactions between a company representative and healthcare professionals remain the most effective marketing channel," said Dirk Abeel, global performance development manager at Nestlé Nutrition. "But we know HCPs are time-crunched and facing information overload. To effectively differentiate ourselves among HCPs, we need a clear idea of when and how our customers prefer to be approached, and to easily access records of every customer interaction, allowing us to better serve them."
Raj Wickramasinghe, life sciences lead for SaaS in Accenture's CRM business, agreed that life sciences marketers are making a necessary shift from masters of the message to managers of data and analysts of insight. "Brand marketing is getting much more cross-functional, sometimes reaching back almost into the discovery stages to inform positioning and market-entry strategy. Global brand management is really about insight gathering, strategy setting, and data mining," he explains.
Using analytics to put the customer at the heart of commercial strategy
Through the widespread adoption of cloud computing, data mining has already grown exponentially, and over the last few years the life sciences industry has discovered many new and profitable uses for data analytics. Insight is driving improvements in everything from clinical trial management to marketing plans, and from quality control to regulatory compliance. How will Big Data drive commercial innovation in 2015?
There was strong consensus among the panelists that declining contact with front-line doctors and increased pressure to get new drugs to market quickly put customers and trial data analytics at the heart of commercial strategy for life sciences companies. "The decline in one-on-one brand-physician relationships can teach us something important as an industry," Abeel noted. "Even putting regulatory restrictions to one side, HCPs are not willing to make time to meet with company reps who simply regurgitate messages. Physicians want us to engage them in an intelligent conversation about their patients' needs. Too many companies still follow the old approach in their HCP communications."
Data analytics, Abeel argued, allow commercial strategists to "change this paradigm, this tendency, by really taking healthcare providers seriously. We can use data to understand what physicians are looking for. What are they expecting from us? What channels do they use to research new therapies? If we can use aggregated customer data to answer these questions, as a company, we can begin the shift from product provider to solutions provider."
This shift will require a significant change in marketing managers' mindsets, and in the CRM and data analytics systems that support their cross-functional collaboration and decision-making. A life sciences sales rep with a full view of the customer, for example, can effectively coordinate what information goes to which customer through what channels and when. That is not to say that sales determine the marketing plan. Instead, the informed multichannel sales rep can serve as a "solutions provider" – with the ability to provide physicians with the information they require through the channels they frequent.
The result is a sales rep who takes into account physician preferences and builds a useful, personal relationship through a mix of channels. Each communication is more impactful and more likely to be consumed, whether it's a personal email, an online detail, or a face-to-face interaction. With each positive experience, the physician is more receptive to future communications from the company. And the rep transforms into a navigator whose primary role is to guide the customer through a series of increasingly more relevant interactions, cumulatively resulting in a seamless journey rather than a series of one-off communications.
"From a marketing perspective, customer data is imperative," explained Tim White, senior director and head of global customer interaction of Lundbeck, which develops therapies to improve the quality of life of people suffering from brain diseases. "It shapes everything – investments, strategy, messaging and more. With our commercial cloud platform, we now benefit from the right information from every interaction, and can then easily share those insights across the organization to improve the customer experience upon every subsequent interaction. It enables us to focus on most effectively leveraging the right channels for each doctor and accelerate our path toward customer-centricity."
Adding patients to the mix
As social media grows in ubiquity, it is an increasingly important channel for reaching physicians and engaging them about therapies. The official hashtag of the 2014 American Congress of Oncology generated 39,000 tweets over the five-day meeting – an increase of nearly 4,000% compared with the 979 tweets sent at the 2010 congress. Although many life sciences brands have been wary of venturing into social media, as more physicians use Twitter and other platforms to communicate professionally, how is pharma keeping its voice in the conversation about its therapies?
White sees social media as a game-changer in how life sciences companies build relationships with partners, customers, and patients. "Social media means we are no longer the only source of information about our therapies, and this is a very powerful shift," he said. "The stories our patients and customers are telling about our brands online are, in many ways, more important than what we're saying about them. They expect us to be present online and somehow part of the dialogue."
This, White added, has led to a greater demand for companies to be present and responsive online. A customer's ability to call, click, like, follow or visit should not be mistaken for an optimized approach to digital customer communication. Although the industry is moving toward integrated technology platforms that effectively support multiple communication channels, incorporating social media is an additional challenge.
Cloud-based content management systems are one tool the industry is using to manage communications with customers and stakeholders. When integrated with CRM and data platforms, companies can gather an accurate view of what information customers and their patients need from the company.
As instant cross-platform mobile messaging apps like WhatsApp grow in popularity, establishing a compelling and holistic multichannel customer journey will be critical to success. The panelists agreed that the life sciences industry needs to fully embrace integrated solutions delivered through the ubiquitous cloud to enhance customer and patient communications. Ultimately, whether delivered face-to-face or online, useful real-time information will engage HCPs, build trust among patient groups and help life sciences companies establish their voice in the multiple, multichannel, global conversations taking place about their therapies.
Customer-outcome focus causes patient engagement and services to grow
As patient groups form cross-border networks online, many life sciences companies are mirroring these efforts and experimenting with new patient engagement teams. With the growth of specialty pharma and a shift toward outcomes-based reimbursement, leading drug makers are realigning research, sales and marketing resources to build networks of patients, payers, healthcare professionals and life sciences stakeholders. The question remains: is patient engagement a new way to create value or just the latest in a long line of buzzwords?
"Patient engagement has always been a priority for Janssen and the industry. The better we understand the patient journey, the better we can serve our primary customer – the physician," said Michel Baes, Janssen's vice president of marketing operations, customer orientation and transformation. "Those companies working in heavily researched, rapidly developing therapy areas like oncology are already seeing the need to stop focusing on product information only, and start offering patients and physicians holistic solutions – from prevention through to aftercare."
As 4G and sensor technology grows, the opportunities to gather accurate, context-based data from large patient groups in real time are also changing how life sciences companies approach patient engagement. Some pharmaceutical companies are seeking to bring clinicians, payers and patients together in therapy-specific social networks, online and through traditional professional conferences and sponsorships, which they hope will result in greater information exchange and data-mining capabilities. There are two technical challenges life sciences companies face when building successful multi-stakeholder therapy-area networks: providing relevant, compliant content and managing the impending flood of incoming context-based data from customers and patients.
Forward-thinking life sciences technology leaders are resolving this dual challenge by integrating their CRM and content management systems into a unified cloud-based system that supports a holistic approach to customer engagement and data management. From ensuring all communications are compliant to gathering and analyzing customer insight, integrating disparate legacy platforms in the cloud has potential to make big pharma agile and responsive enough to effectively lead global networks of multiple stakeholders around a specific therapy area.
Paul Shawah is VP of product marketing at Veeva Systems. Jan van den Burg is VP of commercial strategy, Europe. A shorter version of this column appeared in the March issue of MM&M.
Scroll down to see the next article