October 01, 2012
WedMD gets star-powered redesign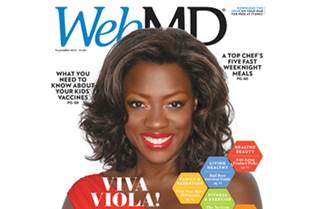 WebMD executed a cross-platform magazine redesign with a more visual and celeb-centric new look. It's the first refresh for WebMD the Magazine since its debut seven years ago.
"It's really part of an overall plan to refresh the site and make sure the brand is staying innovative and cutting edge," said publisher Heidi Anderson.
The redo includes a cleaner design, with more photography and a new issue architecture organized around six sections. Each issue will feature four celebrities—actress Viola Davis ("The Help") graces the September cover, and inside are actresses Elisabeth Shue ("CSI: Crime Scene Investigation") and Melissa Joan Hart ("Sabrina, the Teenage Witch"), along with celebu-chef Rocco DiSpirito.
The star power provides "healthy inspiration," said Anderson, affirming for readers "that just like them, celebrities have trouble balancing work and motherhood and eating right."
The new sections—covering health news, beauty, parenting, food, fitness, and living with a chronic condition ("Checkup")—are mapped directly to web content, said Anderson.
The magazine's iPad app, which debuted in March, has been tweaked to include a "questions for your doctor" feature, along with beauty shopping lists, videos, slideshows and online tools. An expansion of the app to other platforms is in the works.
The package gives WebMD an integrated cross-platform ad offering, one capable of delivering readers from a print mag at the point of care to a mobile device and on to the website.
"The iPad app is a great bridge from the printed magazine in the doctor's office, and allows those readers content wherever they want it. Plus, it can link to rich content on WebMD.com."
The app has seen 200,000 issue downloads in the six months since its launch, and WebMD is bumping up magazine circulation from 1.3 million copies to 1.4 million, starting in January.
WebMD has been suffering an ad slump of late, but is trumpeting August comScore figures giving the site the most visitors of any health information site (31,669 unique users vs. EverydayHealth's 28,998). The company is also readying apps for chronic pain and pregnancy, plus a Q&A feature called WebMD Answers.
Scroll down to see the next article