April 28, 2015
2015 Top 20 Companies: Boehringer Ingelheim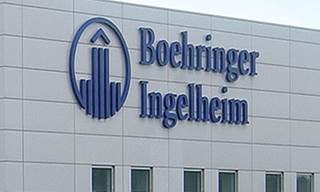 17. Boehringer Ingelheim $8.3B ▲up 6.9%
Global revenue: $17.7B (15th); up 4.5%
Top brands: Spiriva HandiHaler ($3.3B); Combivent Respimat ($892M); Tradjenta ($571M)
Promotional spend: $859M (6th); 10.3% of rev.
R&D spend:* $3.8B (11th); up 15.8%; 21.5% of rev.
Planned launches: Synjardy (diab.); nintedanib (onc.)
Patent expirations: Aggrenox (2017); Mirapex (2018); Spiriva (2018)
It was a rough year for Boehringer. After the company lost patent protection on its blockbuster hypertension drug Micardis, overall drug sales slumped in the first half of 2014, prompting the family-owned firm to implement companywide cost cutting and layoffs. Additionally, Spiriva lost its patent in India. Still, bright spots remain—like Synjardy, a combination diabetes drug it is developing with Lilly. Synjardy combines empagliflozin, an SGLT-2 inhibitor, with metformin, a time-tested generic often used in combination with insulin. The drug gained a recommendation from European regulators in March and is expected to earn FDA approval later this year.
* Global R&D spend is based on the year ending December 31, 2013, the latest data available at press time.
Click here to return to main story.
Scroll down to see the next article