October 01, 2014
A court battle to crack "use codes"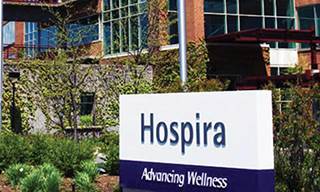 Defying the risk implicit in an "emergency" weekend plea for a federal appeals court injunction by brand owner Hospira Inc., in mid-September Mylan resumed shipping its generic of the blockbuster hospital sedation drug Precedex, previously blocked by a lower court order that had been reversed hours before. That risk was eased when an Appeals Court denied Hospira's emergency motion for an injunction pending appeal, but granted an expedited hearing of the appeal and set oral arguments for October 27.
Hospira's motion had claimed it would "suffer irreparable harm." Mylan is selling up a storm during this interval, so Hospira has to bear that harm at least until after the appeal adjudication. Hospira argues that it has "strong grounds for obtaining reversal of the lower court's decision." It had also asked the court to block the generic's sales pending expedited appeal.
But with Mylan trucks rolling to distribution centers around the country, it seems unlikely the US Court of Appeals for the Fourth Circuit could act quickly enough to undo the effects of Maryland federal judge George Hazel's surprise telephoned reversal of his temporary restraining order (TRO) against FDA 19 days before.
Hazel had granted Hospira the TRO against FDA in August, the day after the agency determined that potential generic competitors of the company's injectable sedation drug Precedex could be approved if they avoided protected new indications in the innovator's labeling.
FDA, which has for decades been pro-generic, has allowed so-called patent "use codes" to be published alongside brand patents in its bioequivalence directory known as the Orange Book. The use code tells the agency and intending generic imitators the language that must be removed from a branded drug's label to ensure that it does not appear on the imitator's label and thereby infringe on any patented use. There have been allegations that brand companies manipulate these use codes more broadly than patent claims, to stop so-called "skinny labeling" of drugs protected only by use patents.
In granting the TRO—often a tacit prediction that it will become a permanent injunction—the court sided with Hospira's argument that the FDA determination conflicted with a recent US Supreme Court decision in Caraco Pharm. Labs., Ltd. v. Novo Nordisk A/S. This stated that the agency could not approve a generic if its proposed label overlaps at all with the brand's use code.
"At this juncture," Judge Hazel wrote before he reversed himself, "the court therefore finds that FDA's decision was at odds with relevant authority. Furthermore, to now permit FDA to approve generic versions of Precedex on the basis that it can approve [generic applications] for broad, general indications that overlap with a protected method of use would be tantamount to a change of the rules."
Those who watch FDA perceive a growing tendency by the agency to use less formal means to avoid the lengthy requirements of formal rulemaking.
Primarily, these requirements demand public notice in the daily Federal Register, receipt and review of public comments, and prior notice of ultimate decisions to affected parties, along with reasonable opportunity to appeal or file suit in court.
In the Precedex matter, Hospira reacted with lightning speed. The day after FDA's determination the company was in Hazel's court, and late that night, FDA was stopped, at least for 14 days (until September 2), which is the time limit on a TRO.
Its speed was necessary. In the two days after FDA's determination, two generic companies (Mylan and Par) rushed Precedex competitors into the market that subsequently had to be halted by Hazel—although he withdrew an actual recall he'd ordered along with the TRO.
Whether FDA could persuade federal courts not to grant the permanent injunction has been the subject of intense interest, especially by the brand-name drug industry. In its August 18 determination allowing label "carve-outs" across the board for any generic meeting the determination's liberal conditions, FDA concluded that regardless of whether the brand's use code has been changed after approval (as Precedex's had been), "the agency can approve (a generic) that submits a 'Section viii' statement and omits labeling that discloses the protected use ..."
FDA had been struggling with what to do about patent use codes that are narrower than the approved indication on the label. Under agency policies, a narrow use code that overlaps a broad indication can only be carved out by omitting the indication.
Earlier this year, the agency asked stakeholders whether an approved indication can be subdivided into inherently authorized sub-indications to match the use code submitted by the brand so that generics may carve it out of their label.
From its internal deliberations since, FDA has begun allowing generics to "carve out" protected uses in brands' labels and thus opening the way for new generics by regulatory fiat—a practice many close observers see increasing.
Scroll down to see the next article