October 01, 2013
AMA has closed the book on American Medical News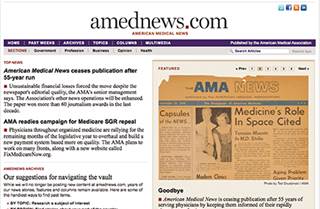 American Medical News's 55-year publishing history ended September 2, although the website will be maintained through the end of the year.
American Medical Association officials cited declining ad revenues. They also said reader migration to digital platforms added stress to the business.
"In the last nine months or so, we've gone through a process of evaluating [options for] AM News," said Thomas Easley, SVP & publisher, periodic publications, "and [we] came to the conclusion that the only thing we could do at this point is close it."
The closing will affect 20 editorial employees, located in the Chicago, Washington, DC and New Jersey offices.
AM News has a print circulation of 230,000 medical professionals, most of them physicians. Like many medical publications, it took a hit in 2009 but had seen a rebound, in ad pages and revenue, in 2010 and 2011. But 2012 brought more red ink. "We were forecasting a continuing decline through 2013," said Easley.
The newspaper is part of a portfolio that includes the JAMA Network, Journal of the American Medical Association and the JAMA specialty titles. Unlike its sister titles, which derive revenue from both institutional subscriptions and ads, AM News is totally ad-supported.
"As much as anything, this is about [a] strategic shift for the publishing portfolio," said Easley.
The AMA said it will bolster its email news aggregators Morning Rounds and AM Alerts to ensure physicians continue to receive timely news relevant to the profession.
Scroll down to see the next article