April 25, 2015
Ayman Chit, Senior Director, Sanofi Pasteur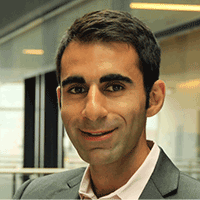 Ayman Chit

, Senior Director, Sanofi Pasteur

Ayman Chit is a senior director with Sanofi Pasteur where he currently heads up economic assessments and market access strategy focusing on new vaccines for the North America business. Prior to joining Sanofi, Ayman held multiple roles with in industry, most notably establishing and heading up the health economics and outcomes research group responsible for oncology medicines and vaccines at GlaxoSmithKline (GSK) Canada. During his tenure at GSK he also spent time working in research and development where he led clinical development teams and interfaced with commercial teams advising them on product launch and life cycle strategy. In conjunction with his interest in business, Ayman keeps an active academic affiliation teaching on research methodologies and the pharmaceutical industry at the University of Toronto's (UofT) school of pharmacy.

Ayman holds an honors bachelor of science (HBSc) degree in Chemistry, a master in biotechnology (Mbiotech) and a doctoral degree (PhD) in health economics all from UofT. His doctoral thesis was focused on the economics of vaccine and drug development.
Scroll down to see the next article