August 01, 2013
CME may save money, study says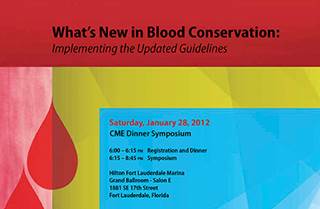 A study by CMEology shows that CME can trim substantial costs from the healthcare system, authors say, even if just a few doctors change their practice as a result of an activity.
To gather real, patient-level data on cost savings as a result of an educational activity would be quite expensive. Instead, looking at surgical outcomes, they predicted that for every bleeding-related complication or botched surgery cardiologists were able to avoid after taking an educational activity, healthcare costs should be cut by a mean of $1.5-$2.7 million.
The hypothetical cost savings yielded by CME-related learning are "substantial," authors said. They also hailed the study for its ability to frame CME in an economic light.
"There was a need to communicate the benefits of CME, and everyone understands costs," said CMEology's Dana Ravyn, PhD, MPH, scientific director and senior analyst.
Two CME symposia, sponsored by Baxter, were held in 2012 and 2013 encouraging practices that prevent bleeding-related complications of cardio-thoracic surgery. Clinicians were surveyed at the time of the activity and one year after, to gauge commitment to change.
Then, they estimated costs from a database of cardiac and cardiothoracic surgeries: Any bleeding-related complication (BRC) or reoperation for bleeding (RFB) would cost $12-$15,000 each. Finally, a computer model predicted that every BRC or RFB cardiologists are able to avoid after taking an educational activity should result in mean healthcare savings of $1.5-$2.7 million.
"For me, this kind of modeling and doing it in dollars allows CME to come to the table and get to talk about healthcare costs," said Jack Kues, PhD, associate dean for continuous professional development, professor emeritus of family medicine, University of Cincinnati College of Medicine. "This allows CME to participate in the conversation."
Scroll down to see the next article