June 01, 2014
Eliquis aims to amp up its sales push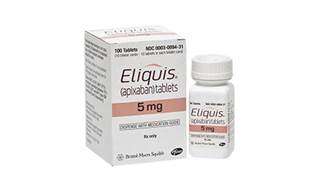 Cardiologists should be prepared for an amplified push for the BMS/Pfizer blood thinner Eliquis.
Bristol-Myers Squibb noted during its first-quarter earnings call that the partners are committing "more resources to Eliquis this year," and that this effort will capitalize on momentum from last year's efforts to focus on cardiologists, to up their game in medical education around the drug and improve access. BMS noted that these efforts were in addition to last year's direct-to-consumer marketing effort.
The drug pulled in $106 million in the first quarter, up from $22 million for the same period last year. This quarter's split shook out to $61 million in US sales and $45 million abroad, with particular strength in Germany. EVP and CFO Charles Bancroft noted that the company saw "encouraging prescription trends in our new to branch share among cardiologists."
The quarter's totals show the drug is set to top last year's total sales of $146 million.
The companies also have a bit more to work with this year, because the FDA expanded the drug's indication in March to include prevention of deep vein thrombosis among orthopedic surgery patients, in addition to its initial 2012 indication for preventing stroke and embolisms in patients with non-valvular atrial fibrillation. The DVT indication means it has more ground on which to compete with Johnson & Johnson's Xarelto, which brought in $864 million in sales last year. But Boehringer Ingelheim's Pradaxa—which had $1.7 billion in 2013 sales—is also a strong competitor.
The companies have been bickering over which drug doctors should use over standby warfarin. A February analysis by healthcare informatics company AdverseEvents said that while BI, BMS and J&J's offerings were not significantly different than warfarin in terms of safety, Eliquis patients were found to have fewer serious adverse events. J&J refuted the results, noting that Eliquis was a young drug, with few prescriptions, and, at the time, a single use, while Xarelto had six indications when the study was made, and those six were part of the patient study.
Scroll down to see the next article