January 02, 2013
FDA touts approval speed as 2012 ends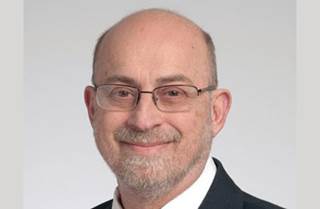 Pushing back against complaints that the drug approvals process moves too slowly in the US, FDA issued a report saying it kept pace with its strong 2011 showing, and noted that it approved drugs faster than its international peers.
FDA said 75% of the drugs it approved in 2012 got the domestic green light before getting the go-ahead abroad. The agency also noted that while it took an average of 19 months for a drug to get approved two decades ago, that figure was down to 10 months last year.
FDA said that of the 35 New Molecular Entities (NMEs)—"novel chemical structures as well as biological products that have never been approved in the US"—all but one met the target PDUFA date.
The report was delivered just after the Partnership for Public Service published a state-of-the-FDA workforce report. That report traced the agency's progress since a 2007 FDA subcommittee delivered the assessment that the regulator lacked "sufficient capacity and capability" and wasn't able to handle its responsibilities. The assessment triggered $1.5 billion in funding to make up for years of agency neglect, an amount that has since increased to $2.5 billion.
Yet the agency's NME gut-check didn't mention this added muscle. Instead, the agency attributed part of its agility to industry user fees, a cash source that the Partnership for Public Service noted in its report hit $1.3 billion in 2012 and is expected to bring in $2 billion, or 44% of the agency's available funding, in FY 2013. The FDA wrote that PDUFA fees ease the review process, because the regulator pours the fees into training and hiring reviewers as well as helping them keep pace with technology. This is in addition to providing agency assistance to companies early in the testing process and helping to cut down on end-of-review issues. The FDA's December report also attributed its stepped-up review pace to programs that let the regulator up the review pace, such as Fast Track, Priority Review and Accelerated Approval. Half of this year's green-lighted NMEs were approved using one of these three programs.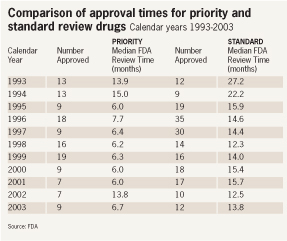 Fast Track launched in 2007, and includes back-and-forth between the regulator and drugmakers during development, as a way to frontload the review process with insight so that fewer gaps need to be filled later. The agency said nine of the 12 fast-tracked drugs got through the approval process with one review this year. Fast Track is for treatments that focus on serious or life-threatening diseases, such as AIDS, cancer and Alzheimer's.
Priority Review shortens the drug review time from the typical 10 months to six. FDA said 11 of the 12 Priority medications were approved with one review cycle, including Kalydeco, which targets a specific gene defect that causes cystic fibrosis. This approval pathway is for conditions which lack adequate therapy.
Accelerated Approval is also for therapies that treat life-threatening diseases, fill an unmet need and look like they could hit a clinical result, but lack the proof. This track comes with a caveat in that approval means a post-marketing review study.
Among this year's new drugs were Genentech's Erivedge for late-stage basal cell cancer, Medivation's Xtandi for late-stage prostate cancer, Jakafi for bone marrow cancer and Jazz Pharma's Erwinaze for acute leukemia.
"You often hear the mantra that FDA is the problem," said Cleveland Clinic's Dr. Steven Nissen told the crowd at the Forbes Healthcare Summit in December. "We do have an innovation problem, but not because of regulation. It's because the easy targets have been found" Nissen, who also pronounced Europe's less rigorous approvals system "an unmitigated disaster" noted that "Innovation is good, but only when it makes people better, and the only way to make sure it makes people better is to have adequate testing."
At the same conference, Dr. Don Berry of the University of Texas's Anderson Cancer Center countered that the American way of approvals is outmoded. "Randomized control trials changed the world, but they haven't changed in 60 years," said Berry, arguing that the process is ill-suited to testing more narrowly-targeted treatments.
Berry touched on the need for collaboration that goes beyond Beltway academics, calling rare diseases—for which the agency approved nine NMEs this year—a canary in the coal mine because the "FDA doesn't know what they're going to do when everybody with cancer can be said to have an orphan disease." This need for collaboration is not lost on the agency, which noted that it has launched several initiatives. These include the Coalition for Accelerating Standards, whichpools regulatory, industry and technological expertise and uses it to create data standards, as well as the Biomarkers Consortium, a research partnership that is developing biomarkers to support drug development.
Scroll down to see the next article