April 01, 2013
Headliner: Kevin Rigby, Novartis Pharmaceuticals
Download:

Headliner April 13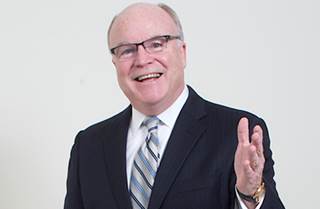 Kevin Rigby
VP/US country head of public affairs, Novartis Pharmaceuticals
2001 – 2012
VP, public affairs/communications, Novartis
1995 – 2001
VP government affairs and policy, Hoffmann-La Roche
Novartis' Kevin Rigby, just named Honorable Mentor for 2013 by the Healthcare Businesswomen's Association, has traversed the worlds of law, politics and pharma public affairs in his career. He's been a small-town mayor, a county prosecutor, a chief of staff to a United States Senator. These days, he's VP public affairs for Novartis. Along the way, he's had many mentors, but two stand out.
The first was Senator Bill Bradley (D-NJ), who told a harried Rigby in the heat of one legislative crisis: "You don't know how good you can be."
"Not only did he express confidence in me, but he opened me up to believing that all of us have such great potential," says Rigby, who was Bradley's chief of staff from 1990 to 1992.
The other was Ron Hardiman, a Republican township council member when Rigby became mayor of his hometown, River Falls, NJ, in 1979. Hardiman, Rigby remembers, gave him two pieces of advice that he's carried with him throughout his professional life.
"Number one: Listen to what people are saying," Rigby recalls. "And second: Never lose your sense of humor. I love to laugh, and I find it's a way of changing a confrontational situation to one where it's just two people expressing different opinions."
Of Rigby, Novartis Corp. president André Wyss told HBA: "His intuition, optimism, sense of humor and willingness to provide honest, constructive feedback—combined with his skills as an active listener and strategic thinker—make Kevin a sought after mentor, counselor and confidante to a broad group of individuals. Kevin is passionate about diversity and inclusion and strongly supports the career development and advancement of associates across our organization."
Rigby, who heads government affairs, policy, philanthropy, patient access and advocacy in his job at Novartis, also finds time for a host of charitable roles—chairing the Healthcare Institute of New Jersey and the New Jersey Workplace Blood Donor Coalition, not to mention family humanitarian missions to Haiti, the Dominican Republic and Nicaragua—and has headed the company's Executive Diversity and Inclusion Council, which aims to make the pharma giant more inclusive of women and minority employees.
"You can only be successful when you maximize the potential of everyone, and it's critical to foster an environment where everyone can contribute," says Rigby. "This way we can ensure we have a pipeline of leaders, and it will be a better place to work and a more successful company. With today's diverse customer base, it's more important than ever to be able to get from all of our associates their viewpoints."
Rigby challenges mentees to seek honest feedback and tries to offer constructive criticism.
"I may not tell them what they want to hear, but I also provide them avenues to resolve their issues and encourage them to believe in themselves and all that they can do."
"I've found that it's not one-size-fits-all when you mentor," he adds. "Each individual is different."
Rigby, son of an NYPD detective, has always wanted to make a difference in the lives of others, as his volunteer activities attest. At Rutgers, he ran the juvenile correctional volunteer program. "I received an awful lot of satisfaction from that," he says, "and I also realized that a lot of people didn't have it easy."
He also draws inspiration from the oldest of his three children, a son who was tragically lost at age 21 in a house fire while away at college.
"When you pack away his trophies and the things he accomplished, and what you hear most often is of the difference he made in peoples' lives, there's no greater thing a father can hear than that."
Scroll down to see the next article