February 21, 2015
Headliner: New Synta chief adds commercialization clout
Download:

Headliner.pdf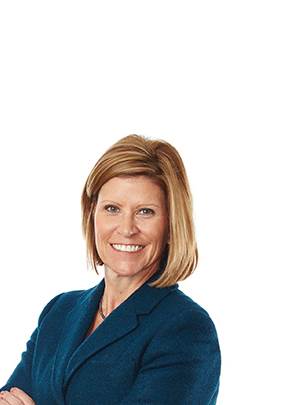 When Anne Whitaker was named as the president and CEO of Synta Pharmaceuticals late last summer, many in the industry reacted with a degree of surprise. Why was Synta, a company that had yet to bring a product to market, entrusting its immediate future to an executive celebrated principally for her commercialization genius?
"I'm not oblivious to the science. I mean, I know most of the rows on the periodic table," Whitaker deadpans when asked about the industry reaction (in fact, she earned her bachelor's degree in chemistry and business administration). "All the analysts thought, 'Oh, she's going to start adding a bunch of commercial people.' "
But Whitaker has made a career out of defying easy categorizations. Yes, she counts among her many charges fostering a commercialization mind-set for the day the company's prize asset—potential cancer drug ganetespib—is ready to roll (Synta is planning to commercialize it in the US itself but will look to partner marketing it abroad). At the same time Whitaker also recognizes that Synta can't just flip a commercialize-now switch and expect a science-first organization to experience anything other than cultural whiplash. (On February 5, Synta announced that it had reduced head count from 133 at the start of 2014 to 90. Through a spokesperson, Whitaker said that "absolutely zero" of the 43 affected people had commercialization-related roles; most were in development.)
For that reason and others, Whitaker proved to be the ideal hire. She has led teams for much of her 20-plus-year career. She inspires great loyalty. And she has been waiting for a chance to serve as a CEO since her stint as Glaxo-Smith-Kline's SVP of leadership and organization development, a post in which she worked closely with CEO Andrew Witty and the company's other top brass. "I saw what a typical CEO's day was like. I saw what it took to run a company," Whitaker recalls.
That was one of many of what she now terms her career "pivot points." For that role Whitaker moved to London and assumed a range of HR-ish functions there. This was no small move professionally—"people took a look at my resume and began inquiring, 'What happened?' " she jokes, noting that her previous charge was heading GSK's critical support care business unit. It was a similar leap of faith personally, especially for someone who had been raised in Alabama and had two children (both now college-aged) in tow.
On returning to the US, in 2009, she settled in to another big job—SVP and business unit head, cardiovascular, metabolic and urology—but began to wonder what mountains were left to climb. "I wanted to grow but didn't see a path for it at GSK."
In 2011 Whitaker accepted an offer from Chris Viehbacher, Sanofi's chief at the time, whom she counted as a mentor during their shared GSK tenure, to run the company's North American operations. She wasn't intimidated by the set of circumstances that faced her. "Because of patents [expiring], $4 billion had just walked out the door. There had been layoffs every year for three years," she recalls.
So Whitaker responded the way she al-ways does: She revamped the company's commercial capabilities and did everything in her power to galvanize every person under her purview. "Anne leads by example," says Robert Ingram, general partner of Hatteras Venture Partners and former CEO/chairman of Glaxo Wellcome.
When Synta came calling, Whitaker admits that the fit did not seem natural at first. As she did her due diligence and met with board members, though, the opportunity began to get more exciting to her.
"Getting to build a company with an amazing near-term commercial asset is a good fit for my experience," Whitaker notes. While she acknowledges a hint of culture shock—"I went from running a multibillion-dollar business with lots of people to a small organization where you can get to know everybody in a month"—she and Synta are both thrilled with the match.
"The levels of expertise and intellectual horsepower here are amazing," Whitaker says. "I feel like I am in deep with everything we have going on here. It's really nice to be able to concentrate and focus on the things you can make a real impact on." —Larry Dobrow
Scroll down to see the next article