March 01, 2013
Humira and Pradaxa ads get kudos from docs in poll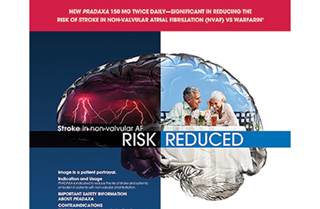 The most effective journal ads of 2011 included those for Abbott/AbbVie's multi-indication biologic Humira, Boehringer Ingelheim's blood-thinner Pradaxa and the contraceptive Conceptus' Essure Procedure, according to the annual Doctors' Choice Study by the Association of Medical Media.
The study's goal is to show the value of print professional advertising. The poll, conducted in mid-2012 using ads that ran in 2011, included responses from 1,600 physicians who reviewed more than 200 ads across 15 categories. Physicians were polled on ads that related to their specialties. Respondents scored ads against six criteria, including: whether the ad communicates quickly and clearly; has immediate appeal to gain interest; prompts seeking more information or re-examination of treatment; helps with clinical decisions; adds to info provided by company reps; and reminds about the value of the product.
Single-page finalists included work for Pfizer's Premarin and The Epilepsy Company's Vimpat. An ad for Conceptus' Essure Procedure, a birth control implant, was rated tops by doctors.
Among the two-page finalists, an ad for Pfizer's Lyrica won bragging rights, followed by ones for Pfizer's Enbrel and Forest's Aerochamber Plus Flow-Vu. Boehringer Ingelheim's Pradaxa was first among multi-page ads, followed by Abbott's Humira and Bristol-Myers Squibb's Orencia.
The results show that effective promotion, featuring correct messaging run at significant levels, results in better patient care, said AMM president (and MM&M VP/business development) Charlie Hunt.
Scroll down to see the next article