October 01, 2012
JAMA racks up big-league numbers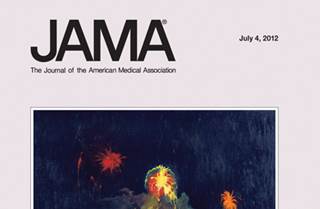 Television ratings generally come in three broad categories: small, medium and large. And then there's the Super Bowl category. Recent viewer data shows that the gridiron showdown has some competition: the Journal of the American Medical Association.
Jann Ingmire, director of media relations for the journal, told MM&M that a recent video piece it had done about an increased risk of alcohol abuse after bariatric surgery drew a total audience of 126 million viewers over a variety of platforms. Last year's Super Bowl television audience was about 111 million.
As a whole, JAMA's TV audience climbed to 273 million viewers in the second quarter of this year, Ingmire said. Print counted 20 million readers and web had 623 million unique visitors. The hook is JAMA's weekly Digital News Release, packaged bundles of material from the journal's various plaforms, which can be mined for video, audio and web stories. The overall tally: a 115% increase in users compared to the second quarter of 2011.
JAMA, whose print version has been around since 1883, has been creating multi-platform content for years, including 25 years' worth of television news reports. But the 2010 debut of the Digital News Release marked the first time that all of the journal's content was available in one place.
Ingmire says that the Digital News Release has definitely increased JAMA's reach. "We're not only getting television viewers, we're also getting online viewers," she says. She also noted that the packages are a branding tool that allows JAMA to fill "the ever increasing and prevalent need for more information about healthcare, and JAMA is obviously a trusted source."
She also attributed the rising popularity to a stepped-up publication schedule—up to to 48 this year from 24 last year—and the format's flexibility. News channels can run the stories as-is or they can swap in their own audio or splice in their own footage.
Consistently popular topics are "diet and exercise stories, and anything that has an immediate impact on someone's health."
Scroll down to see the next article