August 01, 2014
Marketing Research and Multichannel Marketing (August 2014)
Click on the company name to read their profile, a list of available services and contact information
Guard Dog Brand Development
Click here to see a PDF of this page

COMPANY PROFILE
Guard Dog is an independent, WBENC-certified brand identity development company with a global reach. Brand identity is essential to successfully competing and creating deliberately planned, differentiated, and meaningful experiences of value for stakeholders of all types and across all geographies. Guard Dog develops global identities for companies, business units, start-ups, hospitals/health systems, not-for-profit organizations, and products starting as early as Phase I/II.
Guard Dog has internationally recognized industry-leading expertise and capabilities in research/analytics, strategy, strategic design, and brand implementation—creating differentiated and meaningful brands for its clients.
Guard Dog has dedicated global and domestic expertise in conducting primary research (qualitative and quantitative) and secondary research studies. The company has extensive experience conducting research with a wide range of stakeholders, including key opinion leaders, physicians, advocacy groups, allied healthcare professionals, scientists, industry and C‑level executives, financial analysts, media, professional associations, policy makers, consumers, patients, caregivers, and not-for-profit donors and philanthropists.
Guard Dog adheres to the CASRO Code of Standards and Ethics for Survey Research and is a member of ESOMAR, PMRG, BHBIA, MRA and the Customer Experience Professionals ­Association.
Guard Dog's suite of analytics includes both traditional techniques and proprietary techniques including the Corporate Image Perceptual Index™ (CIPI™). Guard Dog's proprietary CIPI™ is the only proven quantitative methodology that analyzes internal and external stakeholders across all dimensions of corporate brand image in a competitive context while uncovering the ideal identity opportunity. The CIPI™ provides deeper value and clearer, validated strategic direction forward than traditional brand image tracking studies.
Guard Dog's research/analytics offerings provides valuable insights that drive the company's proven GUARD™ process of brand identity development, ensuring brands are relevant and resonant.
SERVICES AND OFFERINGS
• Business intelligence and market insights, including competitive analysis, usage/attitude studies, due diligence investigations, stakeholder insight mining, needs assessment, target product profile assessment, unmet needs analysis
• Brand strategy, including archetype, value proposition, and positioning
• Marketing and communications optimization, including scientific statement validation, marketing message mapping, master narrative testing, creative expression/concept testing, detail aid testing, and language/lexicon analytics
• Customer experience and loyalty management, including customer experience mapping, planning, and validation studies
COMPANY INFO
Address: 853 Broadway, Suite 1220, New York, NY 10003
Phone: 212-529-0292
Website: www.GuardDogBD.com
New Business Contact: Camille DeSantis, Co-founder, Chief of Strategy and Research, Director of Client Services, cdesantis@guarddogbd.com or 212-529-0292
Year Founded: 2007
Employees: 10
Holding Company: None; independently owned
Sample Clients: ImmunoGen; Lumin Health System; VHA, Inc.; Merrimack Pharmaceuticals; Abbott Nutrition International
Office Locations: New York City; Princeton, NJ
PulseCX
Click here to see a PDF of this page

COMPANY PROFILE
PulseCX (formerly Roska Healthcare) is a healthcare marketing agency that creates innovative multichannel campaigns and experiences for a wide variety of therapeutic categories. The agency is known for moving brands forward by changing the thinking and behaviors of healthcare professionals and consumers one memorable experience at a time and, as a result, elevating the brands they connect with through their journeys.
PulseCX understands that the key to brand success is the customer experience. It's simply the way the world works now. That's why PulseCX has created a unique suite of products called PulsePoints™360 to help you offer customers a more personal and impactful experience—reaching them rationally and emotionally along their journeys and across their channels, so your brand seamlessly and naturally becomes an integral part of their lives.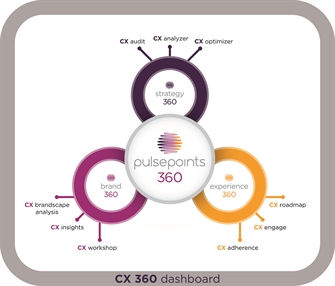 HOW PULSEPOINTS 360 WORKS FOR YOU
PulsePoints 360 consists of Strategy 360, Brand 360, and Experience 360.
• Strategy 360 helps identify the key moments of truth in the customer journey and how to best influence the ­patient–physician dialog across all channels
• Brand 360 ensures your brand has the right positioning and creative platform to dominate the conversation during these key moments
• Experience 360 pulls it all together by developing a ­multichannel roadmap for acquiring and retaining ­customers
COMPANY INFO
Address: 211B Progress Drive, Montgomeryville, PA 18936
Phone: 215-699-9200
Website: www.pulsecx.com
Year Founded: 1981

To learn how PulseCX can create a multichannel campaign that dramatically improves the customer experience and moves your brand forward, call David Zaritsky now at 215-699-9200.
Scroll down to see the next article