May 27, 2015
Med-Tech Marketing: Wearables and Beyond
Download:

Med-Tech Marketing—Wearables and Beyond.pdf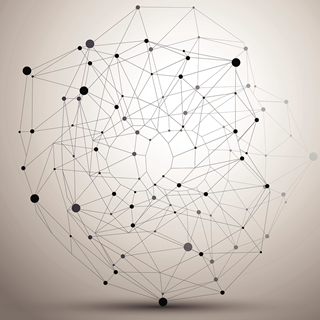 The headline on the July 5, 2012, press release was innocuous enough: "Proteus Digital Health and Otsuka Pharmaceutical Co. Ltd. Announce Worldwide Agreement to Develop Novel Digital Health Products." Over the course of its three paragraphs (one of them "Financial terms of the agreement were not disclosed"), the release sketched the arrangement in super-broad terms, declaring that the organizations would "develop and commercialize a new category of medicines" in "two defined therapeutic areas of high unmet medical need." On closer reading, there could be no doubt about it: Proteus and Otsuka planned to collaborate on … something.
Fast-forward to mid-2015. Asked about the current state of the partnership, Markus Christen, head of global development at Proteus and the company's lead player in the Otsuka relationship, couldn't be more eager to share the details that were so elusive then. "We're developing fully integrated digital medicines together for schizophrenia and bipolar disorder. We've done lots of testing with patients, both to see if they can use the technology and how they react to the medicine. We've sat down with the FDA. We're on track to potentially launch the first digital drug in 2016."
It took Proteus, a maker of sensor-enabled pills and biometric sensor patches that interact with smartphones to form a digital health feedback system, and Otsuka some time to get there—more on that in a bit. But their work together currently stands as the gold standard in collaboration between a device maker and a pharma entity, an example of what can happen at the intersection of ambition, creativity and need. "It's going extremely well. I don't see any real problems," Christen reports.
Alas, to hear many industry wonks tell it, the kind of mutually beneficial, balanced partnership enjoyed by Otsuka and Proteus is an outlier. Indeed, for all the talk about a new era in which device makers, med-tech start-ups and venerable pharma companies jointly drive healthcare into a technified outcome-ameliorating future, the present feels too much like a recent past in which every step forward is hard won. Just because Wired and quantified-self enthusiasts have proclaimed that health wearables and the like are mass market doesn't necessarily mean that it's so.
Per PwC's HRI/CIS Wearables consumer survey 2014, only 21% of US consumers own a wearable technology product; only 10% of them wear it every day. The leap from 10% to the connected-health ubiquity envisioned by med-tech boosters is not insurmountable, but neither is it unsubstantial.
Perhaps, then, it's worth casting a skeptical eye on everything we've been told about the mobification of digital health, balancing the media bluster and VC bullishness—per Rock Health, $2.3 billion was raised by digital health start-ups in the first half of 2014, $200 million of which was devoted to digital medical devices—with the reality on the ground. "Are things happening? Absolutely," says Brian Williams, director, strategy and innovation at PwC. "But they're happening at the speed of technology, not at the speed of healthcare. And lots of [healthcare organizations] aren't good at partnerships that extend beyond the traditional industry ecosystem."
"A bit trivial"?
So where does the industry stand in its quest to mobify med-tech? It depends on whom you ask. At last August's Rock Health Innovation Summit, attended by more or less every health-tech entrepreneur in the Western Hemisphere, Genentech CEO Ian Clark very publicly rained on the med-tech parade, reportedly describing health wearables as "a bit trivial" and opining that "I just don't know whether [wearables are] going to bend the curve in terms of health outcomes."
Similarly, one higher-up with a large pharma company, who asked not to be identified for reasons that will shortly become obvious, says that many current med-tech programs and partnerships are viewed by pharma as a "curiosity," as a means of making companies appear more forward-minded than they may actually be. "A lot of these projects are just for the annual report," the exec argues. "They're PR. They're almost treated like a promotional noisemaker because they have nothing else going on with their products."
One possible reason for this: that, at least to date, few such initiatives have had a measurable effect on the bottom line. "This stuff is always going to lose out to a pill. [The potential margins in the] diagnostics and mobile health businesses—they can't compete with what pharma has in a pill, which is at least a 20% to 25% profit margin."
The exec also questions the sincerity of purpose with which many pharma and healthcare organizations pursue partnerships with device manufacturers or tech start-ups. "There's a really warped incentive system," the exec continues. "People want to 'innovate,' so they try to do something that's never been done before in their company. It might not be the right thing for their patients or business, but if it's different, hey, they get the internal recognition and the external recognition in trade magazines." (Er, you're welcome?)
Despite the criticism of the efforts to date, this executive is quick to articulate a firm belief in the power and potential of collaborations between pharma and device makers and/or tech entrepreneurs. The exec just doesn't think too many organizations have gotten it right is all—and in that opinion, this person is far from alone.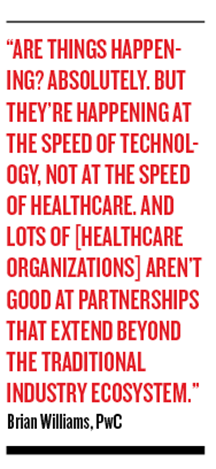 The primary problem, nearly all believe, is that device companies and their pharma peers haven't yet acclimated to the current climate, one in which the much-discussed empowered patient throws his weight around. "Med tech hasn't started thinking of its end user as a consumer first and a patient second," Williams says. Consumers "have made decisions about the tech platforms they like and don't like. When it comes to diagnostic devices or wearables or whatever, the question they're asking is, 'How does this integrate into the technology ecosystem I'm already a part of?" John Zaleski, chief informatics officer and vice president of clinical informatics at Nuvon, the author of Connected Medical Devices: Integrating Patient Care Data in Healthcare Systems and a self-described "geek-slash-tinkerer" with the devices that help him manage his diabetes, agrees, adding, "Everyone focuses on the functionality but misses the big picture in terms of usability."
Joe Meadows, president of marketing services and strategy firm Think Patients, takes this thinking a step farther, issuing a reminder that physicians are consumers, too. " 'What do I do to meet the needs of the healthcare provider in a mobile world?' That's probably a smart way for device companies to be thinking nowadays," he argues. After a pause, he adds, "Of course, it's hard to figure that out. Nobody really has a good answer."
Meanwhile, innovation cycles within pharma remain out of synch with innovation cycles in many other businesses, especially the ones that matter most to consumers. To cite the most obvious example, Apple releases a new or upgraded product every six months or so. Pharma and medical-device companies, limited by the regulatory environment in which they ply their trade, do not.
"Device companies in particular are starting to acknowledge the changes that are unfolding," Williams says. "The companies that are going to be winners in the new health economy are the ones [that] understand that the traditional innovation cycle in med-tech is collapsing, in terms of the cycle time and the need for a consumer-facing innovation engine."
Along those lines, industry leaders question the an-app-for-every-patient-and-condition thinking that has taken hold during the past 18 or so months. There's a sense, in fact, that much of the mobification of med-tech is for show. Organizations and brands that don't have an app fear that they'll been perceived as behind the times.
"Apps absolutely serve a purpose, but the problem is that only motivated patients download them and then keep using them," says David Weingard, founder and CEO of Fit4D, which aims to increase adherence among diabetes patients by pairing them with personal diabetes educators. "You get high engagement but only in a small percentage of the population."
Finally, there's the issue of risk. Upstart med-tech providers, clearly, can stomach more than the pharma giants with which they hope to collaborate. Risk aversion is built into the pharma world; risk acceptance is built into the start-up world. "Companies like ours have to accept that there are rules and regulations in pharma that you have to respect. Sometimes it's frustrating, but that's how it goes," says Proteus's Christen.
Big challenges, big results
So where, exactly, should the med-tech community look for inspiration? Perhaps toward three modern-era med-tech plays, which have cleared any number of obstacles on their journeys to market—two of which aren't yet complete, mind you.
Owing to the kinda-illegal antics of the so-called Diabetes Dads—a gaggle of tech-savvy fathers who hacked their kids' earlier-version Dexcom continuous glucose monitors so that their readings could be beamed into the cloud, then accessed by Web-enabled devices—Dexcom has found itself with a higher profile than most med-technologists. As a result, the company quite often finds itself on the receiving end of questions from start-ups looking to replicate its growth arc.
Its advice? First and foremost, make sure the darn stuff works. "If your product isn't functional or if it doesn't provide useful information, but you go hot and heavy into the consumer market anyway, you're going to get killed," says Dexcom president and CEO Kevin Sayer. More important, he says that makers of health-tech must understand that, at some point in the near future, they're going to have to become software companies.
"Companies like us will continue to make fantastic medical devices. That will never change. But we're going to have to be much, much faster to evolve our software and apps," he explains. "Consumers get a new OS for their phone every two or three months. Our patients are going to expect that from us."
Still, Dexcom is experiencing mild headaches on the marketing front. "We're still underpenetrated," Sayer says frankly. "We're fully mobile now [in February the FDA approved a change to its G4 Platinum CGM receiver that allows it to transmit glucose data directly to smartphones; its next-generation product, set to go to market in late 2015 or early 2016, will eliminate the receiver altogether]. We're front and center in patient communities. But the other day I was speaking with a patient who'd never heard of us. I was like, 'Okay, do you see an endocrinologist?' He tells me the name and it's a physician I know well, who absolutely knows us."
What this story illustrates to Sayer is that makers of med-tech products, himself included, cannot assume an audience. Historically, device companies have geared their efforts toward physicians and hospitals; patient-centricity is largely a new concept to them. "Everybody thinks they'll get recommended off the top of [doctors'] heads but it just doesn't happen that way. We need to take our message more out to our patients," he says.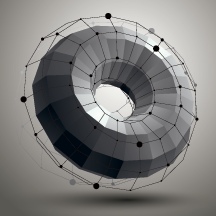 Cyrcadia Health's path has been different in several ways. Most notably, the company's main product—the iTBra, which collects data used for the early detection of breast cancer—isn't, like much of the wearable health technology developed to date, designed with Silicon Valley bros in mind. It helps in the diagnosis of a condition that hasn't been afforded as much attention by med-tech device makers as diabetes (via glucometers) and asthma/COPD (spirometers). And, as best as MM&M can tell, it's the first piece of modern-era med-tech whose genesis has been chronicled in a full-length documentary. Detected, funded by Cisco and produced by Ironbound Films, screened for the first time earlier this year at SXSW.
With clinical trials under way (they'll be conducted in conjunction with the FDA's Early Feasibility Investigational Device Exemption program), Cyrcadia has high hopes for an Asian launch late in 2015 and in the US and Europe shortly thereafter. "Physicians see a patient once a year, maybe. All they see is a snapshot of that patient at that one point in time," says Cyrcadia CEO Rob Royea. "For breast cancer and so many other conditions, they could be tracing what's happening with the patient over time. What we've created is a tissue-agnostic screening device that alerts the physician if a data pattern arrives that correlates with breast cancer."
Royea and his team of researchers, cancer doctors and technologists learned quite a bit about wearables in general ("people walk away after three months of use") and the challenges of balancing the interests of myriad would-be partners and interested communities. Royea notes that even though interest in the iTBra technology was high—"the patient population was very enthused about having a more intelligent wearable device to rely upon versus a self-breast exam every month"—it took some prodding to get financial backers on board.
"The investment community wants products that are already cleared by the FDA and, most of the time, generating revenue before they jump in," he says. "You hear so much about the problems of usability and privacy, but this is just as big an issue for companies like ours. The financial community needs to get behind emerging technologies much earlier."
Which brings us back to Proteus and Otsuka, which experienced no such financial stresses but instead had to sort through any number of organizational and workflow issues. Christen says the relationship began as what he calls "a classic licensing project" for Otsuka. "They hired other companies to do the whole IT side of the project, which led to some breakdowns between different aspects of the system," he recalls. Ultimately, the tensions created by this arrangement led the two organizations to reset the relationship early in 2014—right about the time that Christen joined Proteus following a two-decade tenure at Novartis.
While Christen deflects credit for the turnaround that followed, perhaps the presence of a longtime in-house pharma exec eased Otsuka's concerns about operating alongside Proteus as a peer. "Suddenly they had a pharma guy, so to speak, telling them that they needed to change. Maybe that made them think? I don't know," Christen says. Either way, his message was clear: If Otsuka wanted to truly be digital, it had to do things differently than it had in the past.
"We had to open things up," he continues. "Silicon Valley companies have quick cycles of innovation, but pharma companies don't do reiterations of products. They have long development plans and they execute to them, which is exactly the opposite of how a Silicon Valley company delivers a product."
Put simply, both Proteus and Otsuka did what good partners do: Make the necessary accommodations, in terms of philosophy and work flow, to keep the project on track. Christen says Proteus has set a target of putting more than the digital medicines made with Otsuka before the FDA. It's hoping to do "10, 20, maybe 50." And early indications are that the FDA is on board with those plans.
"From what we've seen, there's strong support up to the top ranks. We've had department heads attend our meetings," Christen says. "It's completely new for the FDA. They'll have to rewrite some rules, because this involves not just approval of a drug but also of the software and the way the software interacts with the patient. But they want this to become real. They're very committed to making it real."
A Few Thoughts on the "Plumbing"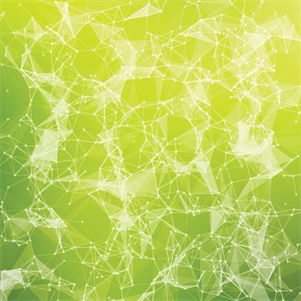 While doubters point to pharma's borderline-pathological aversion to risk as the primary factor retarding the progress of device/tech collaborations, others believe the real reason is far less interesting: namely, that organizations haven't constructed the security and technological infrastructure that all programs with a sizable data-collection component demand. Among the questions often left unanswered, there are "What data will be captured and with what frequency?" and "uh, all of the health information collected here has been secured in the cloud equivalent of Fort Knox, right? Right? Hello?"
This is no trivial issue to be addressed after the fact, says John Zaleski, chief informatics officer and VP of clinical informatics at Nuvon. "The problem isn't so much whether the technology can support a lot of the things that [device and healthcare/pharma companies] want to do, or if Vendor X can handle a cellular connection. It's ensuring that information is protected and preserved and not compromised," he explains. "Going from the bench to commercial availability involves a lot of things that are a lot less sexy than functionality." PwC Director, Strategy and Innovation Brian Williams puts it more succinctly: "I'm not so sure anybody has thought enough about the plumbing, so to speak."
Concerns abound. Take even a basic med-tech application, one that conducts remote monitoring of a patient in his abode. Let's say the data is set to be transmitted via the individual's cable or DSL Internet connection. Can that person or his caretaker be expected to serve as a de facto IT pro, remaining vigilant on a 24/7/365 basis to spoofing or hacking threats? What happens if a denial-of-service attack is launched in his general direction? "There's really no such thing as a firewall anymore," Zaleski notes.
Okay, forget about would-be data pests. What happens if the power goes out at the home of the individual being ­monitored? Given the intimacy of some of the proposed technology—like a pacemaker that can be monitored and adjusted from afar—it's not enough for device makers and their tech partners to glibly dismiss concerns.
"The possibility that someone who's not you is able to adjust something that's in your body—that's a scary idea, especially at a time when you hear about all these people on the Internet with nefarious goals who want to do things simply to hurt people," Zaleski says.
Then there are the challenges posed by data and system interoperability. Healthcare technologists have rhapsodized about potential links between, say, an implantable device and an in-car communications system. But without some kind of commonly accepted standard about how device makers and tech start-ups beam the information they collect into an EHR or similar entity, few of these multiplayer projects are likely to achieve liftoff. Technically speaking, they ain't gonna work.
"I was having a conversation in a meeting yesterday with a person at a pharma company who's charged with understanding these kinds of things," says Joe Meadows, president of marketing services and strategy firm Think Patients. "He was saying, 'I have a family member with diabetes but his primary-care physician isn't seeing the information that his endocrinologist is seeing.' Until the systems start talking with one another, we don't really have the basis for informed conversations."
Finally, privacy remains a legitimate concern in the mind of would-be med-tech users. Whether or not laws exist to protect workers, many still fear that any negative or unflattering health information that finds its way into the possession of an insurance company or HR department can have life-changing impact, and not in the good way. "We've done everything in our power to make sure our servers are secure. But can I guarantee with 100% certainty that somebody won't spend his entire life trying to hack into them? Of course I can't," says Dexcom president and CEO Kevin Sayer.
In the end, companies who sweat these details—and do so in a transparent manner at top volume—will likely be the ones who do the most to advance the med-tech cause. "All of the 'ities'—connectivity, security, interoperability, you name it—need to be worked out before we have universal acceptance and usability of these tech-enabled devices," Zaleski says. "Until users are convinced that these concerns aren't concerns anymore, we're never going to have anything approaching ubiquitous use."
Scroll down to see the next article