October 01, 2012
Million Hearts enlists pharmacists to battle hypertension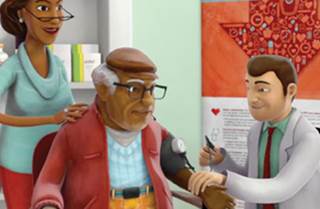 Pharmacists are the latest recruits in the government's push to reduce the nation's risk of heart disease. The Department of Health and Human Services announced that the Centers for Disease Control and Prevention has expanded its year-old Million Hearts initiative to fight not only heart attacks and strokes, but also the underlying cause of much of them: hypertension.
"We need pharmacists to team up with patients and move well beyond dissemination of materials," Million Hearts head Janet Wright said.
The latest government data about hypertension reveal that of the 67 million Americans with high blood pressure, 36 million don't have it under control. It also showed that uncontrolled blood pressure is driving care costs up, with direct costs totaling around $131 billion every year.
The hypertension program, called Team Up Pressure Down seeks to encourage pharmacists to become more engaged with patients and pinpoint reasons patients may not be taking their prescriptions.
To do this, the program developed conversation starters like the Pharmacist Drug Adherence Work-Up Tool which has prompts such as "are you concerned that your medication is not helping you?" The worksheet advises pharmacists to latch onto conversation cues that could help them hone in on what a patient considers important, and use that to promote medication adherence.
Scroll down to see the next article