January 14, 2011
MM&M Awards 2011: Put Your Best Work Forward
Download:

AwardsLaunch2011.pdf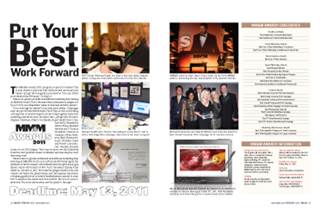 The MM&M Awards 2011 program is open for business. This is your chance to put your best work forward, showcase your talents and get the recognition you deserve. You can submit your entries from February 7 to May 13.
There is no greater accolade in healthcare marketing than winning an MM&M Award. That's because every submission is judged, not by us, but by an independent panel of seasoned industry experts.
It's not enough for entries to just look good, either. Campaigns must also prove their effectiveness. That's why, as well as recruiting a strong team of creative experts, we also bring together numerous marketing executives from the client side—people like Novartis' Stephen Calabrese, Pfizer's Joe Shields, Bayer HealthCare's Cynthia North, Genentech's Jessica Wong, Siemens Healthcare's Thomas Treusdell, Johnson & Johnson's Marc Monseau, Endo Pharmaceuticals' Christine Coyne and Forest Laboratories' Jennifer Rinaldo (some of our 2010 judges). That way, we know we will ultimately stand the best possible chance of identify and honoring the most deserving work.
There is also no greater excitement in healthcare marketing than receiving an MM&M Award. As is customary with this program, the identities of all the winners will withheld until the spectacular gala dinner, which will be held at New York's decadent Cipriani 42nd Street on October 11, 2011. Not even the judges will know who the winners are before the presentations, and the suspense and elation of claiming gold in front of several hundred peers is second to none. Not to mention the celebration that follows. But you do have to enter first. For more information, see the panel to the right.
Scroll down to see the next article