May 01, 2013
MM&M Awards 2013: Judging Panel
Download:

Judging Panel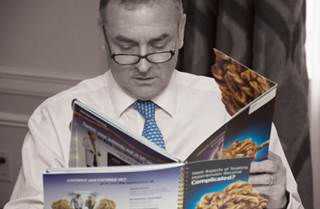 While submissions to the MM&M Awards are now closed, the fun—and the hours of hard work—are about to begin for our judges. As in previous years, the 2013 panel features a variety of esteemed leaders, thinkers and experts representing a range of disciplines within pharma, biotech, devices and diagnostics, agencies and media companies. Their hard work will determine which agencies win gold on October 2 in New York.
THE MM&M AWARDS 2013 JUDGES
Bill Abernethy, Vice President, Global Market Development, Prosensa Therapeutics
Jay Appel, Director, Multi-Channel Marketing, Amgen
Christine Armstrong, Managing Director, IOMEDIA
Emily Baier, Associate Director, Public Relations, Boehringer Ingelheim
Mark Bard, Founder, Digital Health Coalition
Jack Barrette, CEO, WEGO Health
Natalie Bartner, Head of Commercial Strategy for North America Pharmaceuticals, Sanofi
Gina Battiste, Associate Director, Urology Marketing, Astellas Pharma
Christian Bauman, Managing Director & Chief Creative Officer, H4B Chelsea
Pilar Belhumeur, Partner, Executive Creative Director, Greater Than One
Lynn Benzing, CEO/Professor, Wellness Advocates/NYU
Wendy Blackburn, Executive Vice President, Intouch Solutions
David Blair, Head of Industry, Health, Google
Peter Bless, Sales Director, Wolters Kluwer
Jessica Boden, President, StoneArch
Jay Bolling, Chief Executive Officer, Roska Healthcare Advertising
Marvin Bowe, SVP, Executive Creative Director, The Navicor Group
Renee Brauen, Global Channel Lead for Mobile, Multi-Channel Marketing, Pfizer
Jaime Butler-Binley, Partner/Creative Lead, Fingerpaint
Stephen Calabrese, Director, Digital Strategy and Services, Novartis Oncology
Angela Walker Campbell, VP, Executive Creative Director, Prime Access
Jay Carter, Senior Vice President, AbelsonTaylor
Amy Chafin, Global Oncology Marketing Director, Eli Lilly & Company
Stephen Cheren, Director, Marketing Excellence, Novartis Pharmaceuticals
Becky Chidester, President, Wunderman World Health
Pete Clancy, Director of Strategy, closerlook
Christine Coyne, Senior Director, Auxilium
Diane Cummins, Worldwide Director, Colgate-Palmolive
Jim DeLash, Director, Consumer Multi-Channel Strategy, GlaxoSmithKline
Deborah Dick-Rath, President, Epic Proportions
Bill Drummy, CEO, Heartbeat Ideas
Deborah Dunsire, CEO and President, Millennium: The Takeda Oncology Company
Elizabeth Elfenbein, Partner, Creative, The CementBloc
Helene Ellison, Chair, Global Healthcare Practice, Burson-Marsteller
Joyce Ercolino, Director, eStrategy, CSL Behring
Alex Fishgoyt, SVP Director of Creative Development, Harrison and Star
Lisa Flaiz, Group Director, Digital Marketing, Janssen
Thomas Flaten, Director, Epilepsy Franchise, Eisai Inc.
Olga Fleming, EVP/Managing Director, Cohn & Wolfe
Maureen Franco, CEO, Cambridge BioMarketing
Chris Freeman, Marketing Director, Gilead Sciences
Dave Giles, Sr. Marketing Director, ADHD Provider Team, Shire
Marcia Goddard, Chief Creative Officer, McCann Torre Lazur Group
Traci Gonzales, Strategic Digtial Marketing Manager, Galderma Labs
Jennifer Gottlieb, Leader, w2o Group
Richard Guarino, Chief Medical Director, Validus Pharmaceuticals
Gautam Gulati, Chief Medical and Innov. Officer, SVP Prod. Mgmt. Physicians Interactive
Shwen Gwee, Chief Digital Officer, Chandler Chicco Companies
Steve Hamburg, Chief Creative Officer, LLNS
Mike Hartman, Executive Creative Director, LBI/MRY Health
Brian Heath, Marketing Director, Amgen
Olav Hellebo, CEO, Clavis Pharma
Nancy Hicks, SVP, Associate Director, North America Healthcare, Ketchum
Louisa Holland, Co-CEO, the Americas, Sudler & Hennessey
Keith Hopps, Marketing Director, Medtronic
John Hosier, Group Marketing Director, Speciality Care, Eisai
Dominique Hurley, Senior Director Commercial Systems, Ironwood Pharmaceuticals
Paul Ivans, President & CEO, Evolution Road
Jill Jepson, Sr. Director Global Marketing, BioMarin Pharmaceutical
Peter Justason, Director, eMarketing, Purdue Pharma
Fred Kinch, Managing Partner, Creative Director, AgencyRx
Richard Kindberg, President/CEO, Vistek Medical
Stu Klein, Healthcare Practice Lead, Interpublic
Kathy Kovalic, Director of Marketing, Drug Delivery, B Braun Medical
David Krawitz, Executive Director, Global Communications and Philanthropy, Amgen
Brian Lange, Marketing Director, GlaxoSmithKline
Larry Lannino, General Manager, Beacon Healthcare
Brian Layden, VP, Sales & Business Development, Haymarket Media
Eugene Lee, SVP, Media Innovation & Analytics, Communications Media
Matthew Leung, Director of Advertising—Healthcare, Reckitt Benckiser
Harry Levy, MD, MPH, President, interMDnet
Monique Levy, Vice President, Research, Manhattan Research
Rich Levy, EVP/CCO, Draftfcb Healthcare
R.J. Lewis, President & CEO, eHealthcare Solutions
Mike Luby, CEO, BioPharma Alliance
Maria Maccecchini, President & CEO, QR Pharma
Lynn Macrone, Partner, Chief Creative Officer, JUICE Pharma Worldwide
Patricia Malone, SVP, Creative Director, Dudnyk
Maria Marcelli, Head, Marcom US Radiology, Bayer HealthCare
Dave Marek, Executive Vice President, Consumer Services, WebMD
Jerry Maynor, Director of Marketing and Business Development, Cegedim Strategic Data
Lars Merk, Director, Digital Platforms, McNeil Consumer Healthcare
Larry Mickelberg, Partner, Chief Digital Officer, Havas Health and President, Havas Lynx US
Tony Miller, Executive Creative Director, AndersonDDB
Graham Mills, Executive Creative Director, Digitas Health
Jennifer Mons, Marketing Director, Strathspey Crown
Marc Monseau, Founder, MDM Communications
Chet Moss, Chief Creative Officer, ICC Lowe
Mike Myers, President, Palio+Ignite
Anne O'Brien, VP Strategic Solutions, Remedy Health Media
Christopher Ovdiyenko, VP, Creative Director, GSW Worldwide
Gary Palmer, Chief Medical Officer and VP Medical Affairs, Eisai
David Paragamian, Group Company President, Huntsworth Health
Neema Patel, Marketing Director, Eisai
Dina Peck, ECD, Managing Partner, CDMiConnect
Aris Persidis, President, Biovista
Mary Pietrowski, Sr. Director, Digital Strategy & Marketing, Hologic
Peter Plante, Assoc. Director Global Marketing, Merck & Co.
Barbara Pritchard, Principal, WentzMiller Global Services
Charlene Prounis, CEO, Flashpoint Medica
Will Reese, Chief Innovation Officer, Cadient Group
Dan Renick, President, Hobart Group Holdings
Jennifer Rinaldo, Senior Product Director, Forest Laboratories
Anthony Rotolo, Chief Creative Officer, True Health + Wellness
Debra Sangiuliano, Director, Pfizer
Leerom Segal, President & CEO, Klick Health
Robin Shapiro, EVP, Chief Creative Officer, CAHG
Jared Shechtman, Business Development & Social Media Extrovert, extrovertic
Manos Sifakis, President & CEO, customedialabs
Todd Smith, EVP, Chief Commercial Officer, Horizon Pharma
Rick Soni, President & COO, Rexahn Pharmaceuticals
Allen Stegall, Principal, Executive Director of Strategy, Scout Marketing
David Stern, Global Head, Fertility Franchise, EMD Serono
Katherine Stultz, Executive Director Oncology Marketing, Celgene
Sriram Subramanian, CEO & Founder, WhizRx
Felipe Tilca, Senior Business Analyst, Abbott
Wanda Turini, President/CEO, Bull's Eye Innovations
Paroo Uppal, Senior Director, Marketing, Baxter Healthcare
Kristin Vitanza, Brand Director, Endo Health Solutions
Scott Weintraub, Chief Marketing Officer, Healthcare Regional Marketing
Sam Welch, Global Group President, Publicis Healthcare Communications Group
Amy West,
Associate Director Patient Relationship Marketing, Novo Nordisk
Reaves West, Medical Account Executive, Merck & Co.
Marker Wiegand, Director, Consumer Marketing, Amgen
Arthur Wilschek, Executive Director Global Sales, New England Journal of Medicine
For more information about the MM&M Awards Dinner, including sponsorship opportunities, visit awards.mmm-online.com


Scroll down to see the next article