June 01, 2015
MM&M Awards 2015 Judging Panel
Download:

MM&M Awards 2015 Judging Panel.pdf
Meet our judges, listed alphabetically by last name.
Oved Amitay, VP, Head of Commercial, Alnylam Pharmaceuticals
Matthew Baker, Head of Planning, J. Walter Thompson Worldwide
Mary Barbato, VP, Marketing, dLife
Jack Barrette, CEO, WEGO Health
Christian Bauman, Managing Director and Chief Creative Officer, H4B Chelsea
Stephanie Berman, Partner, Creative, The CementBloc
Leonard Bishop, SVP, Director of Innovation and UX, Harrison and Star
Wendy Blackburn, EVP, Intouch Solutions
David Blair, Head of Industry, Health, Google Inc.
Jessica Boden, President, StoneArch
Becky Bodenner, SVP, Creative Director, Giant Creative Strategy
Mike Boken, Managing Partner, Benchworks Consulting
Jay Bolling, CEO, PulseCX
Renee Brauen, Sr. Manager, Pfizer
Matthew Brown, CEO, Guidemark Health
Stephen Calabrese, Director, Digital Strategy, Novartis
Dana Callow, VP, Creative Director, Scout
Jay Carter, SVP, Director of Strategy, AbelsonTaylor
Amy Chafin, Marketing Director, Eli Lilly & Co.
Alyson Connor, President, MicroMass Communications
Robert Cottone, VP, IP and Technologies, OrbusNeich Medical Inc.
Kate Cronin, Global Managing Director, Ogilvy Public Relations
Jim Curtis, Chief Revenue Officer, Remedy Health Media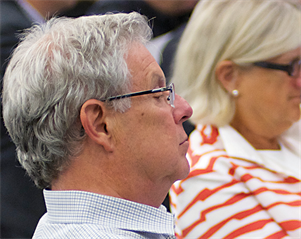 Rich D'Ginto, EVP, Executive Creative Director, Navicor
Rich Daly, Managing Partner, RavineRock Partners
Jim DeLash, Director, Multi-Channel Marketing, GlaxoSmithKline
Mike DePirro, Co-Founder/Partner, DePirro/Garrone LLC
Guy Desimini, SVP, Group Creative Director, Sudler & Hennesey
Mike Devlin, EVP, Creative Director, FCB Health
Mike Diccicco, CEO, DDCworks
Deborah Dick-Rath, Senior Director, Sanofi
Tracy Doyle, CEO, Phoenix Marketing Solutions
Susan Duffy, President, McCann Regan Campbell Ward
Zoe Dunn, President, Hale Advisors Inc.
Deborah Dunsire, CEO, FORUM Pharmaceuticals
Ingo Elfering, Chief Information Officer, Indivior
Jeffrey Erb, EVP, Alliance Life Sciences
Mark Evans, Digital Strategy Director, Langland
Rich Feldman, Managing Partner, Source Marketing
John Fish, Global Director Digital, AstraZeneca
Lisa Flaiz, Group Director, Digital Marketing, Janssen
Peter Flaschner, SVP, Client Experience, Klick Health
Brian Fox, Partner (Principal), McKinsey & Co.
Gaetan Fraikin, CEO, Audacity Health LLC
Maureen Franco, CEO, Cambridge BioMarketing
Josh Franklin, VP, Strategy & Business Development, Chiesi USA
Jeff Frazier, CEO/Founder, THREAD
Jeffrey Freedman, SVP, Digital Strategy, Synapse Medical Communications
John Gardner, President, Luckie & Co.
Lisa Garrone, Partner, DePirro/Garrone LLC
Bruce Grant, SVP/Strategy, Epsilon
Fabio Gratton, Co-Founder, Innovation Catalyst, Sonic Health
Shwen Gwee, Associate Dir., (Global) Digital Customer Engagement, Biogen
Steve Hamburg, Chief Creative Officer, Calcium
Mike Hartman, Chief Creative Officer, W20 Group
John Hosier, Former Executive Director Commercial Operations, Eisai
Alan Imhoff, CEO, FrontlineMedical Communications
Randy Isaacson, SVP, Account Director, Discovery USA
Paul Ivans, CEO, Evolution Road
Joe Jelic, Executive Creative Director/Partner, Cult Health
Peter Justason, Director, eMarketing, Purdue Pharma LP
Hans Kaspersetz, President, Arteric
R. Shane Kennedy, Managing Director, TBWA\WorldHealth
Adam Kesselman, Director, Pfizer
Stu Klein, Healthcare Practice Lead, Interpublic
Brian Layden, VP, Haymarket Media
Simon Lemmy, VP, Marketing, Clarus Therapeutics
Rich Levy, Chief Creative Officer, FCB Health
Pierre Loo, Regional Creative Director, Red Fuse Communication Asia
Deborah Lotterman, Chief Creative Officer, LehmanMillet
Michael Luby, CEO, BioPharma Alliance
Bob MacAvoy, SVP, Business Development, Doximity
Melissa Mackey, Head, Social Media CoE, Novartis
Lynn Macrone, Founding Partner, JUICE Pharma Worldwide
Michael Maher, President, ID Health
Michael Marino, CEO, Big Arrow Group
Joseph Mastracchio, EVP, Channel Strategy, DMD

Kevin McHale, Managing Director, EVP, Neon
Michael McLinden, Practice Director, Healthcare, McK-Connelly Partners
Lars Merk, Marketing Director, AstraZeneca
Kevin Millar, VP, Operations, INVIVO Communications
Dave Miller, Managing Partner, Flywheel
Mark Miller, SVP, Healthcare Portfolio, Epsilon
Tony Miller, Executive Creative Director, AndersonDDB
Graham Mills, Global Chief Creative Officer, Publicis Healthcare Group
Marc Monseau, Founder, Mint Collective
Chet Moss, Chief Creative Officer, ICC
Michael Mrakovcic, Partner and Creative Director, DNA Communications
Edward Nathan, Strategy Lead, Razorfish Health
Stephen Neale, SVP, Executive Creative Director, AbelsonTaylor
Richard Nordstrom, CEO, Liberate Ideas
Ross O'Shea, Creative Director, Arteric
JC Parker, Executive Creative Director, Evoke Health New York
Kristin Patton, President, KPB Associates
Lance Paull, Executive Creative Director, Evoke Health New York
Rob Peters, SVP, Strategy, MicroMass Communications
Julie Petroski, VP, Group Creative Director, Targetbase
Jamie Pfaff, Executive Creative Director, CAHG
Frank Powers, President, Dudnyk
Charlene Prounis, CEO, Flashpoint Medica
John Quick, SVP and Partner, FleishmanHillard
Will Reese, Chief Innovation Officer, Cadient
Dave Renner, EVP Creative Director, ICC
Jennifer Rinaldo, Senior Product Director, Actavis
Janie Rodriguez, Senior Manager, Pfizer
Susan Roher, SVP, Creative Director, Natrel Communications
Michael Roth, Healthcare Practice Lead, Bliss Integrated Communication
Craig Rothenberg, Former VP Corporate Communication, J&J
Debra Sangiuliano, Director, Media, Pfizer
Michael Sanzen, Founder, Chief Creative Officer, Concentric Health Experience
Chris Schnurman, SVP, Performance and Development, Health4Brands
Ryan Scully, President, Warshaw Blumenthal & Turbo Dog Productions
Peter Shaw, Chief Medical Officer, QPharma Inc.
Amanda Sheldon, Director, Digital Marketing and Communication, Medtronic Diabetes
Sandra Shpilberg, VP, Strategic, Nora Therapeutics
Mark Sirockman, EVP, Artcraft Health
David Sonderman, Executive Creative Director, GSW Worldwide
Rick Soni, President and COO, Rexahn Pharma
Farah Speer, Executive Director, Golin
Michael Spitz, VP Strategy, Klick Health
Craig Sponseller, VP of Medical Affairs, Kowa Pharmaceuticals
Ross Toohey, President, 2e Creative
Lesley van de Ven, FCB Health Toronto
Peter Villuci, Executive Creative Director, Cadient
Brady Walcott, Chief Marketing Officer, IOMEDIA
Brianne Weingarten, Executive Director, Licensing and Business ­Development, Purdue Pharma
Bill Werbaneth, SVP, Client Services Director, ghg
Reaves West, Associate Director, Marketing Communcations, Merck & Co.
Brian Wheeler, Managing Partner, RevHealth
Anne Whitaker, EVP/Company Group Chairman, Valeant Pharmaceuticals
Erinn White, President/CEO, HealthStar PR
Jonathan Wilson, President, Spectrum Science Communications
Donna Wray, VP, Digital Marketing, TGaS Advisors
Terri Young, Worldwide Head, Multichannel Marketing, Bristol-Myers Squibb
Peter Zagorin, Global Director, Omnicom
David Zaritsky, President, PulseCX
Scroll down to see the next article