February 05, 2015
MM&M Awards—Fields of Gold
Download:

Feb 2015 MM&M Awards.pdf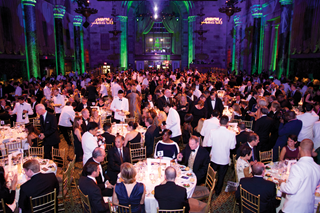 ​The MM&M Awards 2015 program is officially open for business. This is your chance to put your best work—and people—forward and get the recognition you—and they—deserve.
There is no greater accolade than winning an MM&M Award. That's because every submission is judged with the utmost independence and authority by our hand-selected panel of around 100 seasoned industry experts.
Following last year's addition of 11 new categories—which include awards for individual marketers of the year and agency of the year as well as the prestigious MM&M Platinum Award for Outstanding Contribution to Healthcare—this year's enhancements include two more categories.
As always, the identities of all the winners will be revealed for the first time at the spectacular Awards dinner. After last year's sell-out attendance, the event will be held at a larger venue to more comfortably accommodate the crowd—the beautiful Cipriani Wall Street, New York, on October 1, 2015.
MM&M AWARDS INFORMATION:
CATEGORIES
Healthcare Media Awards
Best Healthcare Consumer Media Brand
Best Healthcare Professional Media Brand
Healthcare Marketing Awards
Best Use of Direct Marketing
Best Use of Public Relations
Best Branded Website for Consumers
Best Branded Website for Healthcare Professionals
Best Disease/Education Program
Best Use of Social Media
Best Medical Digital Initiative for Consumers
Best Health & Wellness Digital Initiative for Consumers
Best Digital Initiative for Healthcare Professionals
Best App for Healthcare Professionals
Best Consumer Print Campaign
Best Single Professional Print Advertisement
Best Professional Print Campaign
Best Professional Sales Aid
Best Corporate Marketing Campaign
Best Philanthropic Campaign
Best Multicultural Campaign
Best Agency Self-Promotion
Best TV Advertising Campaign
Best Multichannel Campaign (Small Budget)
Best Multichannel Campaign (Mid-Size Budget)
Best Multichannel Campaign (Large Budget)
Best Product Launch NEW
Personality Awards
Industry Marketer of the Year
Agency Marketer of the Year
Innovative Marketer of the Year
Young Marketer of the Year
Healthcare Agency Awards
Small Healthcare Agency of the Year
Mid-Size Healthcare Agency of the Year
Large Healthcare Agency of the Year
Special Awards
The MM&M Platinum Award for Outstanding Contribution to Healthcare
The MM&M Titanium Award for Best in Show NEW
PROGRAM DETAILS
Eligibility
For work conducted between April 25, 2014, and April 24, 2015
Submissions
Entries must be submitted online at awards.mmm-online.com, where you will also find details of the categories, criteria and entry process.
Entry Deadline
Friday, April 24, 2015
Dinner and Ceremony
Thursday, October 1, 2015, Cipriani Wall Street, New York City
CONTACTS
Program and Event
Rebecca Shulman
Phone: 646-638-6009
Email: rebecca.shulman@haymarketmedia.com
Sponsorship Opportunities
Doreen Gates
Phone: 267-477-1151
Email: doreen.gates@haymarketmedia.com
Scroll down to see the next article