March 01, 2014
MPR marks a few digital milestones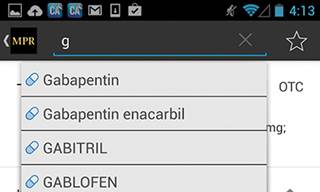 Within four days, drug resource MPR hit two milestones of note: reaching one million monthly views as of February 3 and moving from a soft launch to an all-out shout of its MPR app on February 7.
Jenny Ko, MPR's drug information and product development director, said the monthly views had grown steadily from an average of around 500,000 in 2012. General practitioners tend to make up the majority of visitors, with nurse practitioners comprising an increasing percentage of the audience.
"MPR is rising to the challenge to meet the digital demands of our audience," SVP Tammy Chernin said in a statement. The publication is hoping for rising views to continue, but are careful not to over-promise. Ko said she hopes that 1.5 million will be the 2014 benchmark.
Ko says that several factors account for the increase in the average number of page views. A major one is the decision to go beyond the monographs which MPR is known for, and to expand its coverage to include features, weekly newsletters and what Ko calls "lighter side" materials, such as cartoons, quizzes and crosswords that click with the medical community. The site also includes an e-prescribing platform, coupons and patient education materials.
The MPR app also underwent expansion during its 2013 soft launch, with one of the big changes during its 12-month startup being the conversion to iOS compatibility, in addition to Android. Like MPR, Ko says that the app makes bedside resources easy to access. It currently includes 4,300 prescription and OTC drug monographs, drug interaction management information, daily news and clinical support tools, like calculators and treatment algorithms.
According to MPR's data, this gives physicians a massive amount of information that can add a quality element to patient visits, which average around 15 minutes. Ko says better search is a key way MPR is helping physicians hone in on the necessary information, and that the publisher is continuing to make the search more sensitive so HCPs can find more using fewer search terms. MPR is published by Haymarket Medical, a subsidiary of Haymarket Media, publisher of MM&M.
Scroll down to see the next article