December 01, 2011
Name that brand
Can you name the brand? Each month we print part of a popular pharmaceutical product or advertisement, along with some clues to its identity. Readers are invited to name the brand for a chance to win a copy of Medicine Ave 2: The Story of Medical Advertising in America 1990-2008. Please e-mail your answer to NameThatBrand@haymarketmedia.com or fax 646-638-6150. The deadline is December 31, 2011. The winner will be selected randomly from all the correct entries.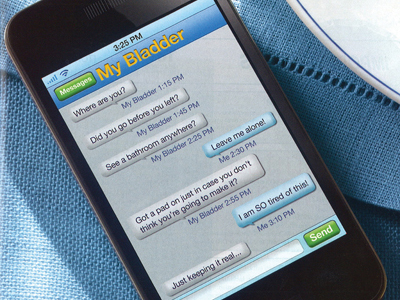 Brand X makes an urgent call
The maker of this month's Brand X is running consumer ads depicting an iPhone full of increasingly, well, urgent texts from its owner's bladder. The creative plays to the exasperation that sufferers feel. The drug met its primary endpoint in a 12-week study unveiled last week. That's good news for the 33 million American sufferers of the condition it treats—and for the manufacturer, which will need all the help it can get to recuperate after a nasty tumble over the patent cliff.
OCTOBER'S WINNER...
Congratulations to Vira L. Katolik, Marketing Director at Digitas Health, for correctly identifying an ad for Crestor, AstraZeneca's medication to lower cholesterol.
Scroll down to see the next article