June 01, 2014
NEJM tool lets docs fine tune skills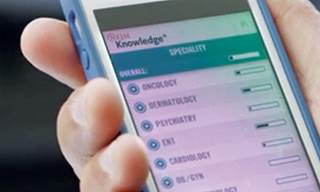 The NEJM Group, the organization behind the New England Journal of Medicine and NEJM Journal Watch, has launched a tool that seeks to infuse the NEJM brand across a medical professional's career.
Currently focused on internal medicine and its sub-specialties, NEJM Knowledge+ is meant to help physicians prep for board reviews as well as provide CME credits and maintenance of certification credits.
The learning program combines three forces: first, it reads a user's skill level based on answers to a series of questions, and then shows physicians their weak spots, which it offers to fix with educational information. Then, it shows where the doctor's actual knowledge fits with perceived competency, and third, it shows where a professional's knowledge base falls within the Knowledge+ universe.
In other words, it's a variation of FitBit fitness competitions that show where a user fits as a prompt to dig in and do more.
Publishing VP Chris Lynch told MM&M that the service's benefits go beyond channeling physicians' competitive natures, and was created to simplify the recertification preparation process. Lynch said doctors typically try to keep up through journals and peers, but "there isn't even time for those kinds of interactions." He said a tool like Knowledge+ can assess what a physician knows as opposed to what he thinks he knows, and use that information to create a refresher course.
It is also an opportunity for the publisher to meet the challenge of finding new ways to engage readers. "It's important for us to expand and provide service more specifically toward those areas where physicians are requiring help," Lynch said.
He added that while individual practitioners are the current audience, NEJM would consider licensing the tool to organizations like hospitals and accountable care organizations. The current model offers an annual license and a discount for the subsequent link. Lynch noted that the content is not static—even though the staff has currently logged 4,000 questions across 1,600 categories, they will continue to add more questions. NEJM also plans to expand the disciplines to go beyond internal medicine.
Scroll down to see the next article