March 01, 2012
Private View: Breaking the Healthcare Barriers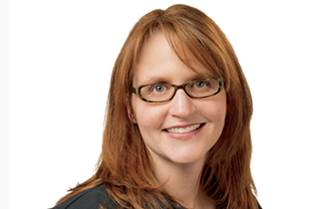 In marketing, we are in the know, think, do business. Take the example of Honey Nut Cheerios. They let parents know that Honey Nut Cheerios is sweet and heart-healthy. By knowing this, we think, "Wow, I can feel good about buying these for myself, even my kids." What do parents do? Buy the cereal for themselves and their little tikes.
When we create great work that moves our customers through this mental continuum, we can expect results.
I want to share some consumer work that I think creatively breaks the healthcare barriers and, most importantly, drives customers to act.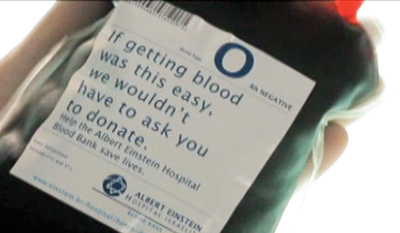 Albert Einstein Hospital, Blood Donation
Agency
: Z+, Sao Paulo, Brazil
Wouldn't it be nice if anyone who needed blood could get it anytime? Based on this theory, Albert Einstein Hospital placed blood bags in refrigerators in some convenience stores. Customers' reactions were filmed, and turned into a viral and out-of-home campaign. The viral campaign makes you vividly experience the know and think. Just seeing the video made me act and go give blood! Check
this
out.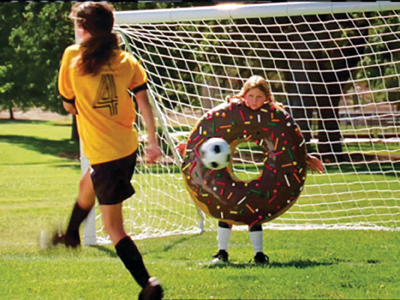 PediaSure
Agency: AbelsonTaylor
This campaign reminds people that they are what they eat. But visually is where the adage becomes fun and clutter-busting. It has consumers think, "Do I really want my kid eventually looking like a donut?" Will people act? My guess is this campaign has people rethinking what their kids eat. While I like the idea, I wonder if the campaign is getting results, or just doing a great job selling the food ­pyramid. Perhaps both.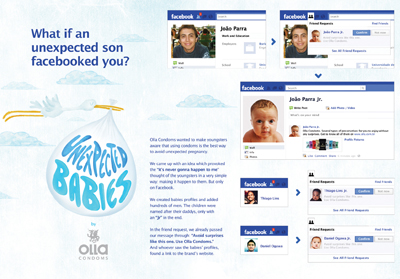 Olla Condoms: ­Unexpected Babies
Agency: AgeIsobar, Sao Paulo, Brazil
This social campaign woke up teens on Facebook by sending them friend requests from a baby that is their namesake. It let them know, you need to be smart now and use condoms. It had teens thinking, "This really could be my kid if I don't use one." My bet is it really had teens in Brazil using more protection. Check out the video case.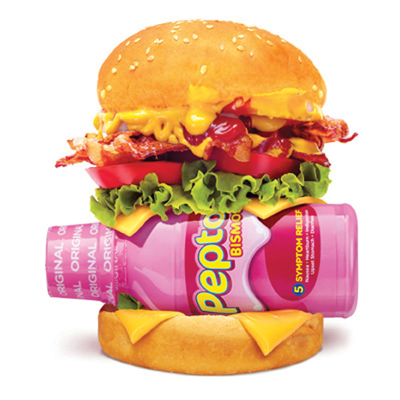 Pepto Bismol
Agency
: Publicis New York
What a great job of letting folks know that for food-induced heartburn, Pepto works. Consumers then think, "I will be fine if I eat a triple quarter-pounder with extra bacon as long as I have my Pepto." I think this campaign practically gives people permission to do so. So what do consumers do? They go out and get both!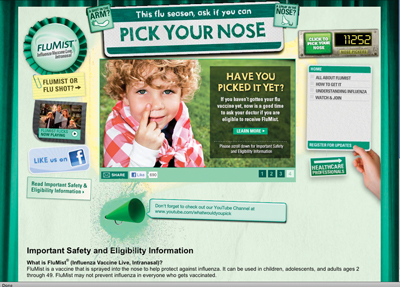 FluMist
Agency
: Digitas
Through memorable creative, we know there's an intransasal alternative to the flu vaccine. The creative makes us think it's easy and pain-free. I can imagine many more making the request. This year, when my youngest daughter cried going to get her flu vaccine, what did I do? I said, "Don't worry, 'just pick your nose.'"
PRIVATE VIEW: Each month, a creative director from the industry reviews a number of medical advertisements. Please note that the views expressed are those of the author and not the views of MM&M magazine. For more information, or to be considered as a guest reviewer, please e-mail Kevin McCaffrey at Kevin.McCaffrey@haymarketmedia.com.
Scroll down to see the next article