December 01, 2011
Private VIew: Disease-state awareness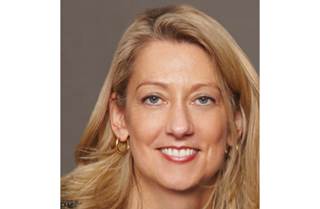 Change your thinking and get ready to change your behavior… in the future. This is the main takeaway for most disease-state awareness advertising. Convincing physicians to think differently while waiting for a means to act differently is not easy. And reminding them of an urgent unmet need without insulting them is even more difficult. These are the challenges for the disease-state awareness campaigns which are a must-have for most clients. Here are some current campaigns in oncology—with one example from the consumer world—that raise awareness and educate in a provocative and compelling manner.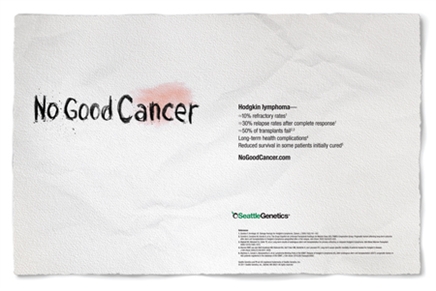 No Good Cancer
Agency:
The Navicor Group

Client:
Seattle Genetics
The gritty simplicity of this campaign grabs you. The headline, "No Good Cancer," is a twist on the belief that Hodgkin lymphoma is the "good cancer" since most patients are cured. Most—but not all. This campaign stands out from disease-education ads that depict 3D cellular environments and receptors. And the handwritten font gives the stark statistics some humanity. The companion website is easy to navigate, and keeps the print ad's clean look and feel. This campaign reminds us that not all patients are cured and that they need new, innovative solutions.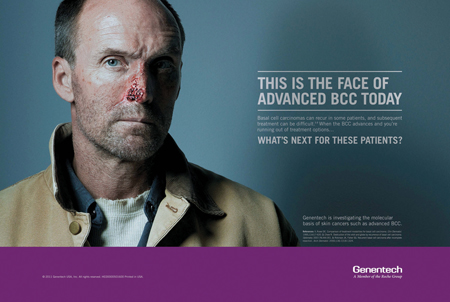 The Face of Advanced BCC
Agency:
Harrison and Star
Client:
Genentech
You can't help but stop and stare at this image of a patient with advanced basal cell carcinoma. It is difficult to look at and more difficult to forget. His determined eyes seem to say, "I'm ready to keep fighting this disease. Are you ready to help me?" This ad reminds the reader that more options are desperately needed.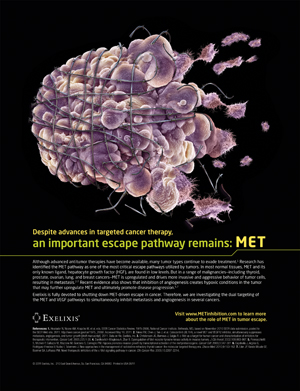 MET Escape Pathway
Agency:
Sudler & Hennessey
Client:
Exelixis
With the growing number of oncogenic pathways, educating oncologists on a new one has to be simple and direct. That's what this campaign on the MET pathway achieves. It shows the 3D cancer cell breaking free of a barbed wire cage. With its telegraphic image and concise language, this ad's message to the reader is inescapable—cancer knows how to evade even the toughest anti-cancer treatment.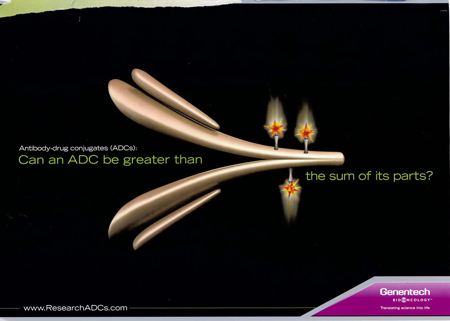 Greater Than the Sum of Its Parts
Agency: Harrison and Star
Client: Genentech
Iconic imagery and great production quality make this advertorial a standout. The simple visual, an antibody-drug conjugate executed as a greater-than sign, conveys that ADCs may deliver more. The headline hammers the message home. But perhaps the most impressive aspect of this ad is that it boils down the complex subject matter of antibody-drug conjugates into an easy-to-understand scientific story.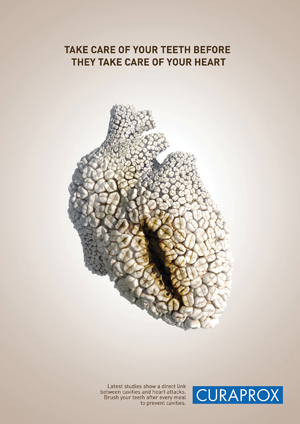 Take Care of Your Teeth
Agency:
Jandl, Bratislava, Slovakia
Client:
Curaprox
The Tim Burtonesque visual of a decaying crevice in a heart made of teeth is disturbing, alarming—and effective. This consumer ad created by a European agency is direct and to the point: skip brushing your teeth and you just may get a cavity in your heart. After viewing this ad, you'll be sure to brush more, won't you?
Scroll down to see the next article