May 01, 2012
Private View: Promoting pain relief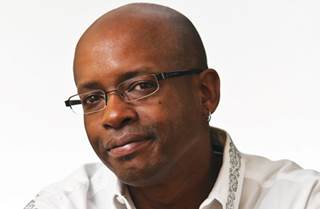 Pain! It comes in all different shapes and sizes and ranges from musculoskeletal to migraine to menstrual. Below are five campaigns that do a great job of connecting with pain sufferers in unique and creative ways.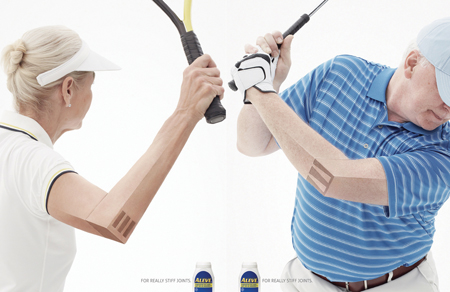 Aleve
Client: Bayer
Agency: BBDO, Toronto, Canada
For really stiff joints. Whether you're an ex-athlete, a weekend warrior, or a baby boomer, you've had days where your joints felt stiff. Through its simple imagery, this campaign does a great job of visualizing joint stiffness. Looking at the locked, wood-like joint, you really get a sense of total stiffness getting in the way of performance. This easily tees up Aleve to be the hero.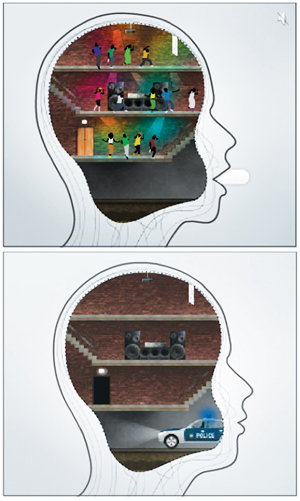 Panadol
Client: GlaxoSmithKline
Agency: Memac Ogilvy, Dubai, UAE
Panadol: Clear your head. Quick acting headache relief. This campaign is simple, straightforward, and to the point. The underground rave party pounding in the person's head was a clever and creative way to illustrate a pounding headache. I also liked the interactive component of this campaign (taking Actifast), and the immediate result (instant relief) via the cops breaking up the party. This was a clever and fun way to visualize the benefits of the brand. For the campaign's full effect, visit http://bit.ly/Hly7wz.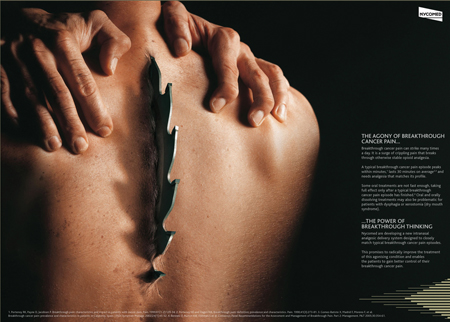 Nycomed
Client: Nycomed
Agency: Sentrix Global Health Communication
Nycomed: Cancer Pain. Cancer pain. It's a crippling pain that breaks through opioid analgesia, peaks in minutes, and lasts 30 minutes on average! Nycomed has developed an analgesic delivery system designed to radically improve the treatment of this condition. This campaign does a great job on a number of levels. Overall, it's beautifully executed. It visualizes cancer pain in a way that really grabs you and, as a viewer cuts you deep (no pun intended). The subtle things, such as the tension in the hands, marry well with the photoshopping of the saw blade and make this campaign believable. You feel the person's pain. The tone of the copy is caring, and offers a ray of hope for patients suffering from this condition.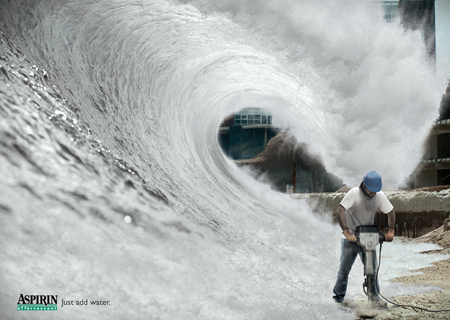 Aspirin
Client: Bayer
Agency: BBDO Mexico
Aspirin effervescent. Just add water. This ad uses a strong metaphor to suggest the power of Aspirin effervescent and water for instant headache pain relief. It uses its visual stopping power to get your attention. In the next split second, it delivers the punch line. And finally, in three seconds (or less), this campaign has done its job in connecting with the customer and delivering the brand benefit.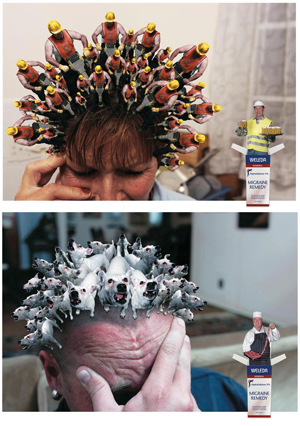 Weleda General Kephalodoron—Migraine Medication
Client: Weleda
Agency: TBWA\Hunt\Lascaris, Johannesburg, South Africa
Weleda Migraine Remedy. This campaign does a great job of visualizing migraine pain. The construction workers with jackhammers really give a sense of maddening pain. What I really appreciate is the the punch line—instant relief in the form of a beer break. Or, in other execution, sausages for the hundreds of barking dogs.
---
James Griffith is Creative Director at Cadient Group.
PRIVATE VIEW: Each month, a creative director from the industry reviews a number of medical advertisements. Please note that the views expressed are those of the author and not the views of MM&M magazine. For more information, or to be considered as a guest reviewer, please e-mail Kevin McCaffrey at Kevin.McCaffrey@haymarketmedia.com.
Scroll down to see the next article