August 01, 2012
Private View: Veterinary Health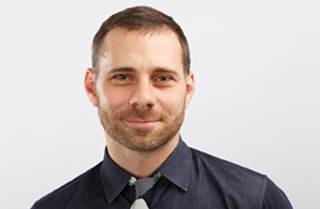 In advertising, humor can be an effective tool in attracting and engaging an audience. When done right, it can be memorable and evoke a positive emotional response for a brand.
But as health care advertisers we must be hypersensitive to the usage of humor. If employed inappropriately, it can damage our credibility, or even worse, offend our audience. Combining humor and physical ailments is tricky.
The field of veterinary health lends itself to humor more comfortably. Animals inherently evoke a positive emotional response, creating openness to humor. Let's take a look and have a chuckle together.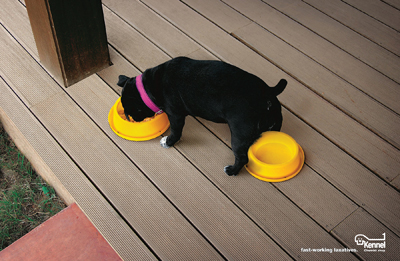 Kennel 1 Chemist Shop
Agency:
Publicis, India
Humor works well when we take a delicate situation and turn it on end. In the case of Kennel 1 laxatives, humor makes an embarrassing topic easy to talk about. The brilliance of this humorous execution is its effectiveness in communicating the brand strategy, "fast-working." Notice how extraneous elements are removed, allowing for a great simplicity of message.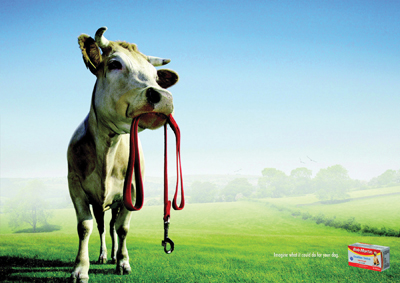 Bob Martin Conditioning Tablets (vitamins)
Agency:
DraftFCB, Johannesburg, South Africa
The surreal quality of the photography (deep color saturation and exaggerated perspectives) adds to the tongue-in-cheek nature of this communication. The unexpected action is humorous, attention-grabbing, and memorable. The copy— "Imagine what it could do for your dog"—seamlessly bridges the surreal situation to what is relevant for the audience.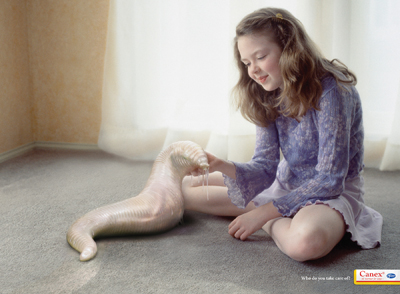 Canex all-wormer
Agency: TBWA, Helsinki, Finland
Humor can be absurd, sometimes evoking mixed emotions. In these ads for Canex all-wormer, the visual makes us uneasy, even while we laugh at the absurdity of it. What parent would allow this? The emotional "one-two-punch" is memorable and evocative. The line "Who do you take care of?" demands a call to action: stop acting absurd, and take care of your dog.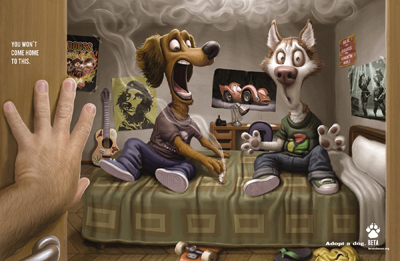 Beta pet adoption
Agency:
Leo Burnett, Beirut, Lebanon
The great benefit of humor is that it can provide a "twist," an unexpected surprise that grabs your audience. Pitting the challenge of raising kids against the relative "ease" of caring for a pet is evocative, and perhaps even risky. The chosen, somewhat goofy illustrative style softens the story, and conveys the intended tongue-in-cheek tone. The creative execution easily lends itself to an array of executions…icing on the cake.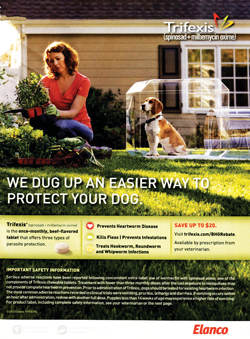 Trifexis
Agency:
Callan Creek, Lawrence, Kansas
It is silly to think of a pet confined to a series of protective tubes. Yet, just because something is silly does not mean it cannot pull at the heartstrings. It is heartbreaking to think of our pet separated from us in this way. Because the alternative presented is both absurd and dramatic, the call to action is obvious: use Trifexis for comprehensive protection.
Adam Kline is EVP, Group Creative Director at JUICE Pharma Worldwide.
PRIVATE VIEW: Each month, a creative director from the industry reviews a number of medical advertisements. Please note that the views expressed are those of the author and not the views of MM&M magazine. For more information, or to be considered as a guest reviewer, please e-mail Kevin McCaffrey at Kevin.McCaffrey@haymarketmedia.com.
Scroll down to see the next article