November 01, 2011
Private View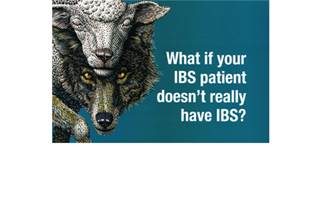 Laurie Bartolomeo is creative director, copy at Dudnyk
Changing behavior, raising awareness, shaping the market in advance of a product launch—these are just a few reasons to love the use of unbranded disease-state awareness campaigns. Unbranded campaigns not only provide an effective approach to creating a meaningful disruption in the marketplace, but they also provide your agency with another outlet to showcase its strategic, scientific, and creative prowess.
Out of the ashes of the burnt-out pharmaceutical-advertising industry, the unbranded campaign has risen up like a phoenix. It's a medium that's as impactful as any branded communication. It's also a different way to get your audience's attention and make sure that your message gets heard. I hope you get the chance to "go unbranded" sometime soon. And if you do, I hope you make the most of the opportunity.
Here are some personal favorites (and a couple that fall a little short on originality).
• TYPE II DIABETES
Bright, bold, and iconic. This tire has gotten a lot of traction in the unbranded world—and for good reason. Rethink insulin before your out-of-control diabetic patients run their pancreases into the ground. A compelling message—considering that changing a pancreas could prove to be a bit more difficult than changing a tire.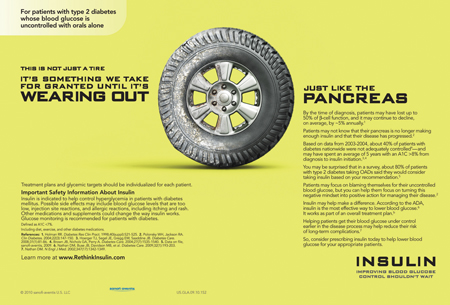 Client: Sanofi Aventis
Agency: Euro RSCG Life MetaMax
Creative Team: Lori Spielberger, EVP, executive creative director; Rochelle Melton, SVP, associate creative director, copy; Eva Schicker, VP, associate creative director, art; Paula Blinebry, copy supervisor; Julien Maculan, senior art director
• DEPRESSION
Love this little managed care messaging slice of life delight. As if depression didn't suck enough, the meds keep you up at night and make you fat. But this company is on top of it, and paving the way for top-tier coverage for the antidepressant they're about to launch.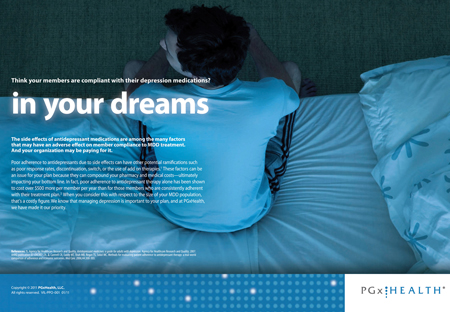 Client: PGxHealth/ Trovis Pharmaceuticals
Agency: Entrée Health
Creative Team: Roger Haskins, creative director; Nina Greenberg, creative director; Corinne Reynoso, copywriter
• HYPOGLYCEMIA
This multichannel unbranded effort does its job to draw attention to the problem of hypo unawareness. The falling bead of sweat is a subtle warning of the life-threatening ­danger of too-low blood sugar. And half of diabetics are walking around like this? Makes me want to learn more.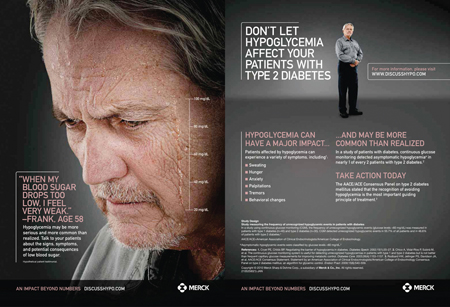 Client: Merck
Agency: Draftfcb Healthcare
Creative Team: Raghu Desikan, creative director; Tom Callan, VP/group copy supervisor; Mike Bonilla, VP/group art supervisor; Josh Green, VP/account group supervisor
• STOMACH ACID
Who knew stomach acid could be so scary? This ad reminds me of Pinhead from the '80s thriller
Hellraiser
. The killer stomach switches turn on at any time of the day, spewing searing acid up the helpless esophagus. The visual and headline paint a seriously painful picture—paving the way for Takeda's extended-release PPI.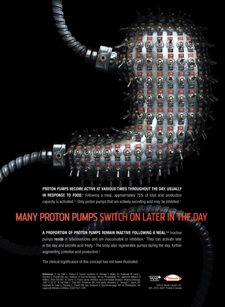 Client: Takeda
Agency: Abelson Taylor
Creative Team: Jody Van Swearingen, creative director; Barry Levine, associate creative director/copy; Brad Graetz, associate creative director/art; Steve Shearin, senior art director; Kevin Tran, senior art director; Kathleen Burzycki, senior copywriter; Robert Sellers, senior copywriter
• NET ALLIANCE/TYPE II DIABETES
There has to be a better way to point out the hidden dangers of a condition without showing an image of a shark fin/great white or a wolf in sheep's clothing. I think I get what each campaign is trying to say, but the banal images do nothing to communicate the severity of the long-term consequences of unmanaged diabetes or an undiagnosed neuroendocrine tumor.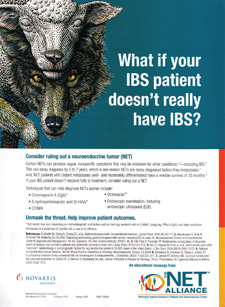 NET Alliance
Client: Novartis Oncology
Agency: Vogel Farina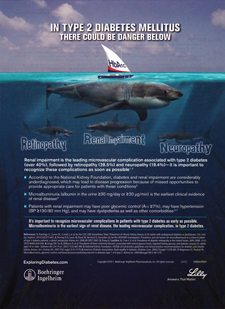 Type II Diabetes
Client: Boehringer Ingelheim
Agency: Torre Lazur McCann
PRIVATE VIEW: Each month, a creative director from the industry reviews a number of medical advertisements. Please note that the views expressed are those of the author and not the views of MM&M magazine. For more information, or to be considered as a guest reviewer, please e-mail Kevin McCaffrey at Kevin.McCaffrey@haymarketmedia.com.
Scroll down to see the next article