June 01, 2012
Purdue builds an opioid Rx resource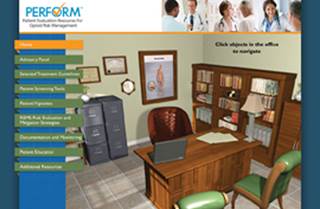 The spiraling number of prescriptions for opiates, like Purdue Pharma's Oxycontin, has raised questions about doctors' ability to safely prescribe the high-strength painkillers. The problem calls for new med-ed interventions, and while a number of CME modules exist on the subject of proper pain management, some non-certified education is being developed by drugmakers, too.
The latest is a free CD-ROM launched by Purdue in May aiming to help providers better assess pain patients and document visits. "It's really designed to help [clinicians] appreciate the risk level of the patient," said Lisa Miller, PharmD, Purdue's executive director of healthcare education and liaison programs.
The tool, developed by Springer Healthcare with financial support from the manufacturer, does that through an interactive series of case vignettes depicting patients who are at low, moderate and high risk of substance abuse. The idea is that through practice with real-world examples, prescribers should be able to spot those who are misusing.
The impetus didn't come through a grant application or an accredited provider. "It's something we wanted to offer through our catalog as an educational resource," said Miller. "Because we follow the ACCME Standards for Commercial Support, it was our idea to produce it, so we couldn't then have it accredited."
Purdue's CD-ROM, which can be ordered through its med-ed catalog, follows Janssen's 2010 launch of educational content at prescriberesponsibly.com, designed to assist in safe and responsible opioid prescribing and pain management.
Asked whether there is a shortage of education for physicians in how to treat these patients, Miller said, "We do see assessments that are done to try and understand where the knowledge gaps are…Patient assessment is probably the most important part, and appropriate documentation of that assessment is important to good medical practice."
Scroll down to see the next article