June 07, 2018
Read the June 2018 Digital Edition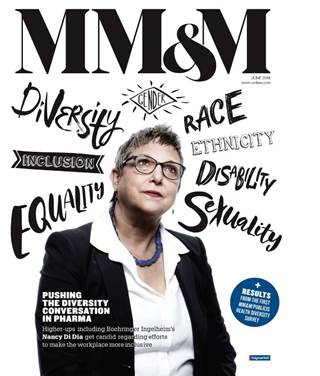 Click HERE to read the complete June 2018 digital edition in its entirety.
THE STATE OF DIVERSITY IN HEALTHCARE MARKETING: For years, pharma has talked
about diversity and inclusion issues in its midst, with some pundits saying the industry was slow
to embrace diversity and others claiming that it's ahead of the curve. Backed by results from the
first annual MM&M/Publicis Health Diversity Survey, we ask a range of in-house and agency
executives about the state of the diversity union, polling them for their opinions on the industry
and their own employers. PLUS: We ask chief diversity officers at two Top-20 pharma
companies and two network agencies about the policies and activities that work - and those that
don't.
PIPELINE WATCH: We examine two highly anticipated products in the pipeline, one for plaque
psoriasis and one for hemophilia A, and assess both their marketing potential and competitive landscapes.
ALSO: MM&M's exclusive list of the Top 25 immunology products based on sales.
GET TO KNOW YOUR MEDICAL SCIENCE LIAISON: Medical science liaisons rank among the
most important actors in the healthcare ecosystem, playing an increasingly vital role in product
launches. So why is it that so many people in pharma are unaware of the full extent of their
contributions? We asked three of the industry's best-regarded MSLs and the head of the MSL
Society to discuss what they do and how they do it. This is the second installment in our popular
"Get to Know Your..." series. BONUS: An infographic on all things MSL
DISRUPTION PREPAREDNESS: We share insights from the 4th annual MM&M Transforming
Healthcare Conference, where biopharma innovation gurus, health-tech startups, payers, and
others met to share case studies in digital therapeutics, discuss the disruptive forces converging
in healthcare, and debate what it means for the life sciences landscape. This year's keynoters
included execs from Amazon and the Biden Cancer Initiative.
CANNES LIONS HEALTH PREVIEW: Facing criticism and holdouts from some major holding
companies, organizers introduced a raft of changes slated to take effect with this year's Lions
festival. The jury presidents explain what's new. Will US pharma stay on the sidelines?
Scroll down to see the next article