May 01, 2013
White House budget would cost pharmas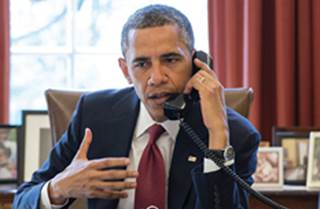 The White House has released its proposed budget for the 2014 fiscal year, and while it gives a modest boost to Health and Human Services, it also seeks to extract more cost savings from pharmas.
If enacted by Congress, the President's budget would make pharmas pay more in several ways, by:
• Mandating that the Medicare Part D prescription drug program pay the lower Medicaid rates on drugs prescribed to so-called "dual eligibles," low-income seniors who qualify for both Medicare and Medicaid. That measure would reap an estimated $123 billion in savings over a decade, according to the Office of Management and Budget.
• Hiking Part D manufacturer discounts for branded drugs from 50% to 75% in 2015 in order to close the Part D "Donut Hole" five years early. The Affordable Care Act originally called for the coverage gap—an artifact of an inane Congressional accounting trick—to be eliminated by 2020. Jacking up discounts would save an estimated $11 billion over 10 years, says OMB.
• Pushing generics for low-income beneficiaries by "increasing specified co-payments for branded drugs from their current law level," unless a generic substitute is unavailable, "while lowering specified copayments for generic drugs by more than 15%." This measure would save an estimated $7 billion over 10 years.
• Banning "pay for delay" agreements (estimated savings: $11 billion), cutting biologics exclusivity from 12 years to seven and bar biologics "evergreening" ($3 billion), clarifying the definition of brand drugs and excluding authorized generic drugs from AMP calculations on branded drugs ($8.8 billion).
The budget would also make wealthier seniors pay higher premiums for prescription drugs under the Part B and D programs, in addition to lowering the Medicare growth threshold for intervention by the Independent Payment Advisory Board (IPAB) and boost Medicare and Medicaid fraud enforcement.
How the budget shifts costs on to pharmas


COST SAVINGS (10 YEARS)




MEANS

$123 billion



Paying the lower Medicaid rate on drugs for
dual-eligibles


$11 billion



Raise pharma discounts for branded Rx under
Part D from 50% to 75%


$11 billion




Banning "pay-for-delay" deals




$8.8 billion

Tweaks to formulae used to calculate Medicaid
rebates for drugs


$7 billion



Upping copays on branded drugs for low-income
Part D patients


$3 billion



Reducing patent lengths for biologics from
12 to seven years


Source: Office of Management and Budget



PhRMA called the budget proposal "bad for patients, bad for innovation and bad for the economy," and said it would undermine Medicare Part D, "a model for success," while deterring investments in biologics R&D.
"President Obama has pressed for innovation and biomedical research, job creation and controlling healthcare costs and yet his 2014 budget again includes stale, previously rejected proposals that would undercut all of these efforts," said PhRMA."
The AMA, on the other hand, generally praised the budget—but blasted the provision strengthening IPAB, "which would set another arbitrary spending target and rely solely on payment cuts to reach it," an AMA statement said.
BIO CEO Jim Greenwood said: "Patients are overwhelmingly pleased with Medicare Part D, and the private competition between various drug plans keeps costs to patients down. We should not disrupt this properly working benefit by making unnecessary changes. And patent settlements promote earlier generic entry, save patients and payers money, and ease congestion in our courts. Prohibiting them is not the answer."
One analyst estimated that the dual eligibles provision alone could hit pharma and biotech revenues by 2% and earnings per share by 3%.
"Our DC policy team… pegs the chance of it getting enacted into law at 30%–40%," wrote ISI Group's Mark Schoenebaum.
"Dual eligibility is the great canard of the President's budget proposal," said Peter Pitts, head of the Center for Medicine in the Public Interest. "Not only will it result in higher prices for the great majority of Medicare Part D participants, but it won't come anywhere close to achieving the savings being touted by the White House. It is a politically-driven fantasy with dangerous unintended (but entirely predictable) consequences."
On the less controversial side, the President proposes an $80.1 billion outlay for HHS—a $3.9 billion increase over 2012. Some of that would go towards basic biomedical research and some to Alzheimer's research. And the budget funds implementation of the main part of the Affordable Care Act, which drugmakers bet big on three years back, taking a calculated risk that the resulting rise in prescriptions and formerly uninsured Americans entered the system, saw doctors, got diagnosed and filled their prescriptions would balance out the roughly $100 billion they paid for a seat at the table as the Democrats were hashing out the details. That original calculus has seen some setbacks, as the Medicaid expansion has been thrown into doubt by the Supreme Court and a number of Republican governors, and several of the items that pharmas got pulled from the original legislation are back in the President's budget.
Of course, the White House's budget is best read as a political document rather than a serious piece of legislation—its chances of making it through Congress with all of its provisions intact are nil, but it nevertheless establishes a series of bargaining positions. Industry lobbyists will have much to say about those provisions once the horse-trading gets underway in earnest.
Scroll down to see the next article