March 01, 2014
Wolters Kluwer broadens the focus of Nursing Advisor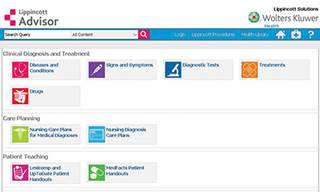 Although growing demand for nurses, nurse practitioners and physician assistants has been a common theme surrounding changes brought on by the Affordable Care Act, publisher Wolters Kluwer Health sees those professionals as part of a wider landscape. The proof: renaming Lippincott's Nursing Advisor the Lippincott Advisor.
The company noted in a statement that while better usability comes with the new name, the brand shift is about more than a shorter title. Instead, it reflects a "growing use beyond nursing."
"We are already seeing other clinicians and non-clinical departments within hospitals use the product, including diagnostics labs, health information management departments, transcriptionists and billing centers," Chief Nurse of Professional Education Judith McCann said in a statement. She added that market research and user requests will continue to guide content.
Upgrades include a customizable component which allows users to add their organization's name and logo to the Lippincott Advisor, as well as the ability to create a customized landing page. The new software—which is iPad and Android compatible—includes the ability to search from any screen and a new alphabetical index.
This focus on adapting to a new medical dynamic is not limited to the Lippincott Advisor. The publisher noted that it implemented a similar shift in January when it decided to market Lippincott Procedures to nursing and non-nursing professionals. Procedures was originally created just for nurses.
Scroll down to see the next article