Some of the world's most powerful pharmaceutical companies have backed down on planned price increases following a new transparency law in California and social media hectoring from President Donald Trump. 
However, experts are split on whether the momentary price freezes will make a meaningful difference for consumers or if they're just a gesture to divert negative attention. 
In May, Trump unveiled a 44-page plan to "derail the gravy train," focusing on vanquishing the lengthy chain of middlemen that stands between drugmakers and patients. 

That didn't stop Pfizer from raising the prices of more than 40 of its prescription drugs. What did stop the pharma giant was Trump's prompt condemnation in a tweet. It quickly backed down, vowing to forestall any further increases until the end of the year, or until the blueprint goes into effect. 

"After he tweeted, we looked at the various situations and decided before I spoke to him we needed to defer the price increases," Pfizer CEO Ian Read told CNBC, adding the company "wanted to have a positive relationship with Capitol Hill and the administration as we go through this blueprint." 

PR moves?

Some experts are not convinced the change of heart will last. Others, such as David Mitchell, president and founder of Patients for Affordable Drugs, say it did not go nearly far enough. 

He explained there are a couple of factors at play: The first is what he refers to as "PR moves" by drug companies with the goal of directing attention away from themselves following scrutiny by the press and Trump. 

"Agreeing to keep prices high and not make them go higher for a few months is not the structural reform we need to lower drug prices in this country," Mitchell said. "They do not want the structural reform, so they're making these PR moves." 

He pointed to Merck as an example. The company said in July it plans to lower prices on some drugs by 10% or more, boasting in a statement it "has a long history of responsible pricing" and that the new reductions "demonstrate our commitment to achieving this goal." However, it did not mention the rollback only affects minor products, such as Zepatier, a hepatitis C drug that was suffering from such low sales that it scarcely registers in Merck's bottom line. 

Six other newly discounted products had already lost their patent protection and were widely available in generic form. Meanwhile, blockbusters such as the cancer treatment Keytruda and diabetes drug Januvia remain at their previous rate. 

"In other words, the drug companies are taking steps to try to turn the heat down on them, and to forestall meaningful action to lower drug prices," Mitchell explained. 

He predicts more to come from the Trump administration, though likely not enough to yield fully satisfying results.
Both Health and Human Services secretary Alex Azar and FDA commissioner Dr. Scott Gottlieb have announced their intention of combating sky-high prices, though like Trump, they have been vague on details. However, during the Food and Drug Law Institute annual conference in May, Azar said "bold action is on the way."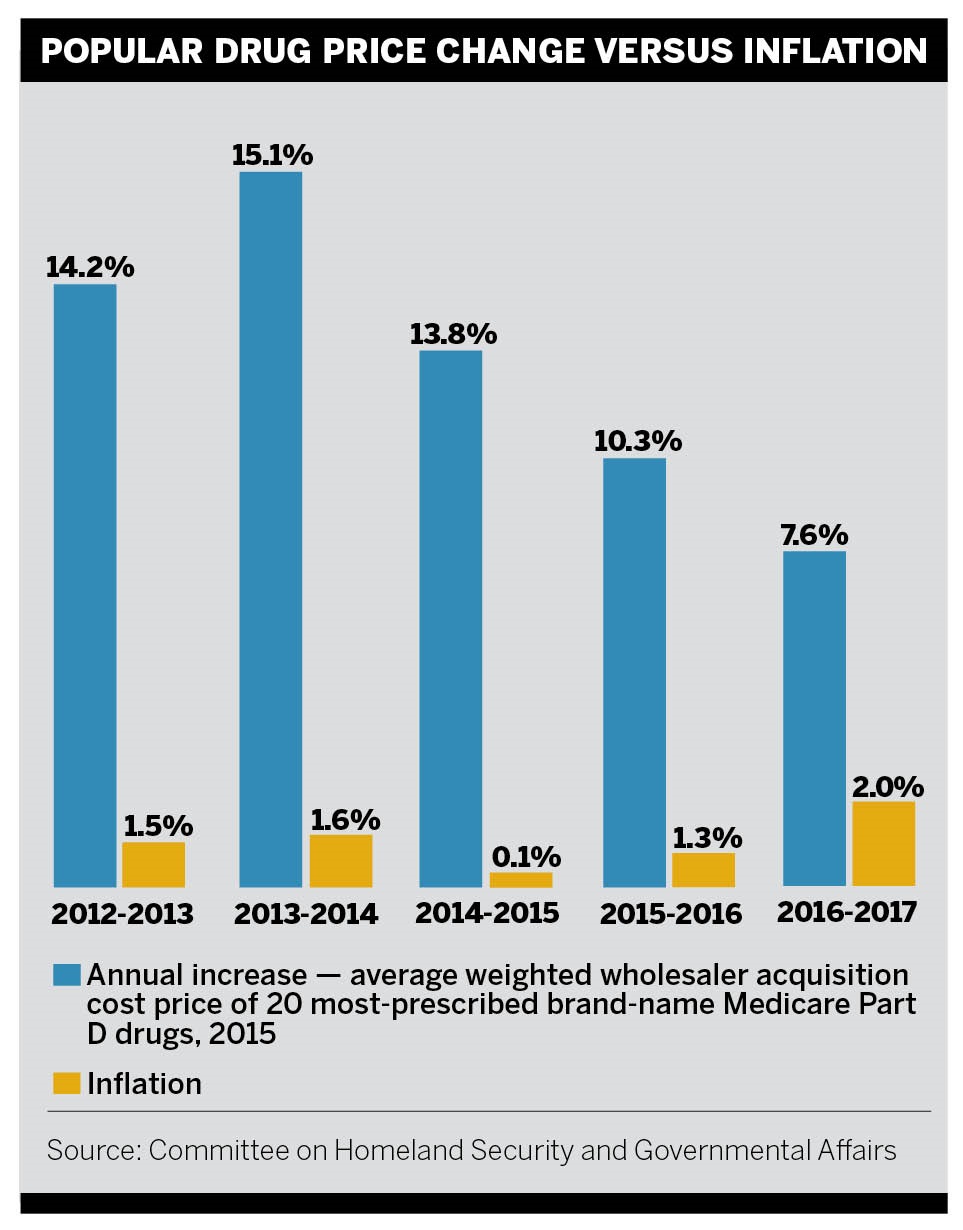 No consensus

Both agencies have their sights set on rebates, the practice of manufacturers paying pharmacy benefit managers and insurers to ensure preferential coverage of their products, experts say. 

Sean Sullivan, healthcare attorney at law firm Alston & Bird, who frequently represents pharmacies, noted the federal government seems to be re-examining whether such programs should continue to be exempt from anti-kickback statutes. 

"It could drastically change a lot of the ways drug manufacturers do their pricing," he explained, though exactly how such a shift would come to fruition is less clear. 

Sean Dickson, officer on The Pew Charitable Trusts' Drug Spending Research Initiative, said he can't speculate on what the administration might do next, but it has signaled it might remove the cap on Medicaid rebates. Such a proposal "could help discourage price increases in general," he noted. 

Meanwhile, there's no consensus among experts about whether drugmakers will continue to forgo price increases. Mitchell predicts manufacturers will "return to their old ways as soon as they can."

"Why would they not?" he asked. "We're not seeing a fundamental change in behavior on the part of big drug companies in America. We're just seeing some little efforts to try and pretend they're exercising restraint." 

Sullivan disagreed for two reasons. The first is increased media attention has made consumers more aware of how drugs are priced. "The biggest problem is the disconnect between what drugs cost and what consumers know about that," he explained, noting that has allowed rates to soar unchecked. "The more transparency there is and the more a consumer is directly affected by the prices, the better."

There's another powerful disincentive at play. When it comes to resuming price hikes, "no drug manufacturer wants to be the test case," Sullivan said. "If and when [prices] do increase, I don't think they'll jump back up like crazy, because nobody wants to be the one that makes the news by raising prices in a huge way." 

Even if pharma companies lay low, Mitchell said temporarily capping price increases will not ultimately fix the system, but added even nominal tweaks are better than nothing at all. 

"If someone says, 'We want to help you lower drug prices and we're willing to do some things,' you don't say 'no,'" he explained. "You say 'OK, we'll help you do what you're willing to do, but we're going to keep pushing for bigger stuff, too.'" 

From the September 01, 2018 Issue of MM+M - Medical Marketing and Media