May 08, 2015
Five things for pharma marketers to know: Friday, May 8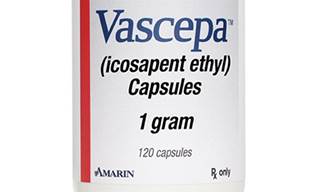 Amarin sued the FDA, saying the First Amendment protects its right to discuss off-label uses of its only product—fish oil pill Vascepa—which is prescribed for patients with high triglycerides, according to The New York Times. The drugmaker argued it has the Constitutional right to share truthful information with providers regardless of whether the FDA has permitted the company to do so. Amarin told doctors who speak on behalf of the company, "If we receive a judgement in our favor, we will move rapidly to deliver to you additional company-approved training and updated promotional speaker materials related to the court's interpretation." Some experts see the letter as a clear indicator that Amarin is solely concerned with expanding its promotional reach rather than simply protecting its First Amendment rights.
Endo pain pill Opana has become the scapegoat for a spike in HCV infections in Kentucky, Tennessee, Virginia and West Virginia. The Centers for Disease Control and Prevention found a sharp rise in HCV infections in those four states.The co-author of the CDC report blamed the abuse of Opana for the surge of infections while speaking at a conference in April, according to Bloomberg Business, saying, "Opana is a drug that shouldn't even be on the market," adding that the drug is absorbed by the body at a much higher rate when injected rather than absorbed orally. Approval of an abuse-deterrent form of Purdue's OxyContin in 2010 sent opioid addicts to the Endo extended-release pain pill as well as a generic form of the drug.
The World Health Organization updated its list of essential medicines, adding a number of HCV treatments, including Johnson & Johnson's Olysio, Gilead Sciences' Sovaldi and dasabuvir—an agent of AbbVie's Viekira Pak. The organization also lamented the drugs' prohibitive prices. One WHO official said: "While some efforts have been made to reduce their price for low-income countries, without uniform strategies to make these medicines more affordable globally, the potential for public health gains with be reduced considerably."
Pfizer settled a class-action lawsuit with Parkinson's disease patients who claimed they developed gambling, eating and sex addictions while taking Cabasar, a Pfizer drug used to treat tremors associated with the disease. The Australian federal court approved the confidential settlement after a four-year court battle, The Associated Press wrote.
The FDA's staff questioned whether Vertex's cystic fibrosis combination drug—consisting of already-approved treatment Kalydeco and experimental compound lumacafotor—was an improvement on Kalydeco alone. An advisory panel is expected to meet Tuesday to discuss the drug. Although the FDA does not have to follow the panel's recommendation, analysts believe the news is unlikely to block approval, according to Reuters. The panel will evaluate the drug's safety and efficacy in patients with a specific mutation (F508del) of the disorder. Approval could expand Kalydeco's patient population by roughly 8,500 patients, according to Vertex.
Scroll down to see the next article