October 01, 2014
Five things for pharma marketers to know: Wednesday, October 1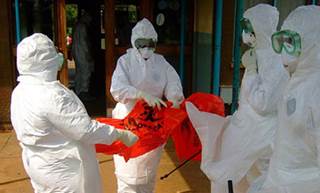 The first case of Ebola has landed on US shores, the New York Times reported Tuesday. The Centers for Disease Control and Prevention confirmed late Monday afternoon that a man has been diagnosed with the disease at Texas Health Presbyterian Hospital of Dallas—making him the first traveler to bring the virus to the United States, and the first diagnosis of the disease's current outbreak outside of Africa. The man returned to the US from Liberia, where he was seeing family. He has been confirmed to not be a health worker from the region. His contact with others in the US is believed to be only a handful of people, and contact tracing is currently underway.
One day after CMS's Open Payments database launch, Bloomberg reported Wednesday morning that doctors have received at least $3.5 billion from drug and device makers over five months in 2013, according to those disclosures. Roche's Genentech spent $135 million in non-research payments, the most of any company in that category, while Bristol-Myers Squibb led in research payments with $329 million.
Walgreens announced record sales of $76.4 billion Tuesday, according to Bloomberg, a total which the pharmacy chain attributed to its growing prescription drug business and the US insurance benefit program Medicare. The company announced it was buying UK pharmacy group Alliance Boots for $6.7 billion in June this year, but chose not to redomicile outside the US for tax benefits. Overall, the company reported a net loss of $239 million, mostly stemming from that acquisition.
Endo Pharmaceuticals has reportedly agreed to pay over $400 million to settle litigation related to its vaginal-mesh implants—which were said to have eroded in some women, leaving them in pain—the drugmaker announced Tuesday. The Dublin-based company stated that this settlement would resolve "substantially all" of the remaining suits. The settlement comes on the heels of another Endo decision reached this year over off-label marketing claims for its pain patch, Lidoderm.
Reuters noted Tuesday that France will tax drugmakers whose HCV treatments exceed the government's healthcare budget, in a system dubbed the "progressive contribution scheme." French newspaper Le Monde has estimated that there are 200,000 people in France infected with HCV, and treatment of the virus could cost the state as much as €1 billion, whereas the current cap on social security spending for hep. C drugs is €450 million.
Scroll down to see the next article