June 14, 2014
AZ's new commercial tune: be different, be humble, be brave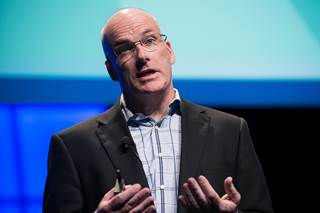 Less than two years after Pascal Soriot was named Astra Zeneca's new CEO, his vision of scientific leadership for the pharma giant is building momentum. But it's taking an upheaval in mindset to get there – and that's a good thing, declared John McCarthy, VP, global commercial excellence, AstraZeneca.
"It opens an opportunity for a new kind of leadership in commercial," said McCarthy, addressing delegates at the inaugural Lions Health festival of creativity in Cannes. "But that leadership has got to go beyond simply advertising our product. We've got to help our physicians with the demands in their practices, generated by this digital world we are living in; and we've got to put patients first – they've got to be at the center of what we do."
According to McCarthy, it means AstraZeneca has to move from selling products to creating services that are meaningful to patients and physicians, In other words, moving beyond the pill.
"For a big pharmaceutical company," he said, "that really requires different thinking and innovation."
For the past year, AstraZeneca has partnered with Digitas LBi on a global initiative to co-create digital products and services at fast pace. McCarthy shared three approaches that he feels are fundamental to success in such digital innovation:
1. Be different. "It's real easy to say. But you've got to be in a space that's uncomfortable, you've got to free yourselves from your organization. If you want a different result, you'd better be different from the beginning."
2. Be humble. "There is humility in creating a learning environment. You have to put aside what you know. You have to be willing to listen to somebody else that has a better insight, who is more in touch with the patient, the process, the physician."
3. Be brave.
"We're in an innovative space and we fail a lot. We're focusing on some things that we think are pretty successful to date, but we could still fail. We have another 20-25 ideas that we've already put on the shelf. Failure is real and, if you are still thinking in the old way it can tear you down. Or it can make you stronger."
Scroll down to see the next article