June 19, 2017
Day 2 at Lions Health: Watson's got its eye on you, Cannes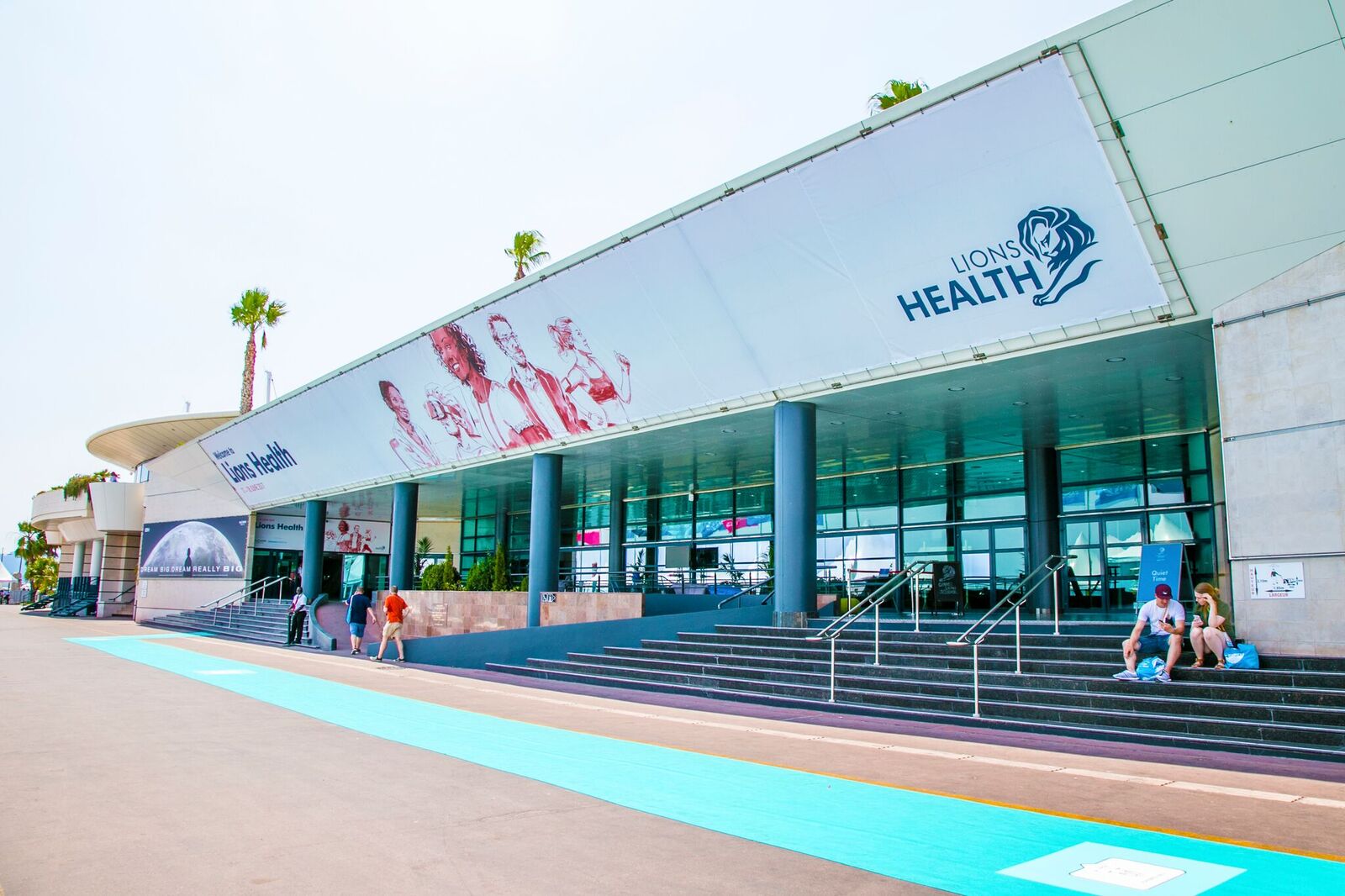 Spending a few days in Cannes can make even the most rugged traveler a little soft around the edges. For those of us who may have grown a little too comfortable in the sensory cocoon that is the French Riviera, a morning talk by the folks at design agency Fjord served as a good reminder of what it's like to leave our geographic comfort zone.
As it turns out, there's much for marketers to glean from stepping into different environments, working with new partners, and putting assets to work in new ways, said Daniel Harris, principal director of the agency.
- Marc Iskowitz
Lesson 1: Keep your survival skills sharp.
Harris recounted the story of how the Accenture-owned agency, along with Ensemble Pour La Difference, used design thinking to transform the healthcare system of the Democratic Republic of Congo (DRC), among the poorest nations on the planet.
He summed up the three main takeaways as:
1. Create clarity of purpose: "In the DRC, they must innovate to survive." Developed organizations don't always sense that urgency. Unless, that is, you "make the jeopardy crystal clear." For instance, "In 2027," he said, "we known only 20% of companies in the S&P 500 will still exist. That jeopardy is pretty clear."
2. Overcome resistance to change. "In the DRC, its status quo is quite horrific, so they've had no resistance to change. In the West, organizations are like rigid structures," he observed. "Enable your teams to be bold and have constant curiosity and the appetite to make things happen and learn. It doesn't matter if they succeed or fail. Learning is the goal. Hire for that constant curiosity."
3. Change is top-down, and bottom-up. When the king of Idjwi, an isolated island that's part of DRC, asked Fjord to set up an internet connection, it was the islanders themselves who took ownership. "Change needs to come from the top," Harris said, "but it's also about the employees creating an environment that's 'pathologically collaborative.' That's critical to getting it right."
- Marc Iskowitz
Lesson 2: Try forcing the problem.
A power plant, currently under construction in Copenhagen, will feature a public park complete with climbing wall and seasonal ski slope, as designed by architect Bjarke Ingels. Another work in progress is The Dryline project in New York City, combining flood protection with green space in lower Manhattan. "It's architectural alchemy," Ingels said, "combining traditional features in untraditional mixtures."
On June 18, on the Inspiration Stage included the "Creativity in the Autonomous Age" session, featuring Ingels, hosted by Klick Health. Ingels walked the audience through a range of his past and current projects, where his holistic design approach creates synergistic and ingenious solutions that typically exceed the brief.
"Sometimes the way to transcend the standard solution is not to make the problem easier, but to make it more difficult," he explained on the Inspiration Stage, to Leerom Segal, CEO of Klick Health. "By increasing the demands — including sometimes contradictory demands — the architecture is forced into more exciting places."
- Julia Hood
Lesson 3: AI can reveal the truth, too.
Several talks over the two days of Lions Health discussed how big data and AI are helping inform marketers' patient-engagement strategy. One example that stood out could be seen at Omnicom Health Group's Data is Delicious exhibit.
Those who stopped by the booth, part of the festival's MedTech Expo were invited to share their Twitter handles. Watson — IBM's artificial intelligence engine — then analyzed the Twitter feeds, segmenting them into five major personality types.
According to its analysis of more than 200 feeds, 34% of the Lions Health visitors were "open" and 22% were "extravert." This is not entirely surprising, given that attendees were comprised largely of those seeking to explore a variety of viewpoints on creativity, but it is a revealing example of the power of AI to quickly and dispassionately analyze a large amount of data to uncover deeper truths.
As for the rest of the cohort, Watson labeled 21% "conscientious," 13% "neurotic," and 11% "agreeable."
- Marc Iskowitz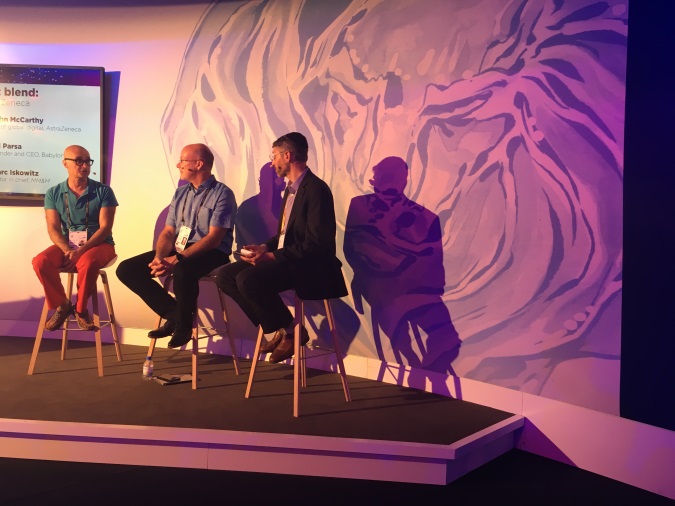 From left: Ali Parsa, Babylon Health; John McCarthy, AstraZeneca; Marc Iskowitz, MM&M
Lesson 4: Make it a $10 solution, not a $1,000 problem.
Those wise words came from Ali Parsa, CEO and founder of Babylon Health, a telemedicine-like mobile app that uses artificial intelligence to dispense health advice.
"Affordably is by far the most important thing," he said, on Sunday, on the Health in Focus stage. "Make it a $10 solution before it's a $1,000 problem."
Parsa joined John McCarthy, VP of digital for AstraZeneca — the two companies are partnering on a pilot program for COPD patients in the United Kingdom — and Marc Iskowitz, editor in chief of MM&M.
A good partnership between a drugmaker and a startup is reliant on a few things, one of which is finding the right type of person within the traditional culture so common in pharma to understand and advocate for startups. "For entrepreneurs to be able to work with corporations, find an 'intrerpreneur,'" Parsa said. "Once you find them, you should grab them."
He also compared the difference between purchasing a car and a buying a prescription drug. Now when someone buys a car, it's the beginning of a relationship that involves leasing, service, and management. Drugmakers should take note.
- Jaimy Lee
Lesson 5: Competition is coming.
A pair of sessions at the MM&M cabana focused on unlocking innovation and big ideas, and making them work for both talent, and clients.
Klick launched its innovation lab in 2012 "to inoculate us against the future," said Yan Fossat, VP of Labs at Klick Health, in a session entitled "Creative Innovation: How to come out with Cool S*T." (Klick is MM&M's cabana partner this year.) What his team realized quickly, he explained, was that in order to truly drive innovation, they had to build their own solutions rather than just buy them.
Fossat said that clients often come to them with a solution in mind, a technology they want to deploy. Unlocking the real potential comes from pushing clients to identify the "root problem," he said. "Quite often the problem you perceive is not the problem you need to solve."
The second session, called "Making Big Ideas Work," was hosted by Keith Liu, SVP of products and innovation at Klick Health. Liu said agencies are "part of a talent economy" and that talent "wants to express creativity, build networks, work with the best, and be part of something bigger."
Liu took the audience through a range of options for fostering big ideas, including creating in-house "labs," signature partnerships, and project-based partnerships.
Disruption, Liu warned, won't come from typical competitors. "Starting up a company these days costs nothing," he said. "There are a lot more potential competitors today than there were 10 years ago."
- Julia Hood
Lesson 6: Compassion is the new leadership.
Platon is not just a photographer. "With only his camera, he seeks out, finds, and reveals the truth of our world to us," said Klick Health's Elliot Langerman, as he introduced the world-renowned, award-winning portraitist to an audience at Lions Health on Sunday. (The talk was sponsored by Kinetiq, a unit of Klick Health, which partnered with MM&M on its cabana this year.)
That mission has a parallel for healthcare marketers striving to connect with the person beyond the disease.
Platon began his career taking headshots of world icons, and the truths he revealed about them sometimes lent them a populist bent. Putin — the "cold face of authority and power" in Russia — is actually in love with the Beatles, Platon reported, and his favorite song is Yesterday (although Platon said he jested with Putin that it might be Back in the USSR.)
Other times, would-be world leaders revealed political insights. In a shoot with President Trump during the 2016 election, Platon asked how he deals with the constant storm of chaos that seems to constantly surround him. "'I am the storm,'" Trump fired back.
Those more likely to shy away from the spotlight, though, have become Platon's newest subjects. He's done photo essays honoring men and women who served their country in the U.S. military in the Iraq and Afghanistan wars and has focused on women who are victims of sexual violence, describing them in ways that rise above their circumstances, not unlike a marketer who seeks to reach the human behind the superficial disease.
"These are my new heroes," Platon said, because they've known adversity and translated it into compassion and sympathy for others. "That's what a good leader does."
- Marc Iskowitz

Scroll down to see the next article