June 14, 2014
Lions Health winners revealed; US work falls short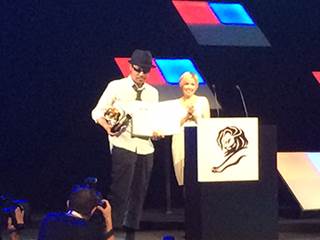 The first ever winners of the Lions Health were just announced at Palais des Festivals in Cannes. The good news is that jury members reported that the work was of a very high quality and that many found it inspirational. The bad news is that submissions from the US did not fare well at all.
In the Pharma category, there was no Grand Prix winner this year. Boston's Hill Holliday took one of the three Gold Lions for "Mind Your Meds" for Partnership at Drugfree.org's Medicine Abuse Project. McCann Health Sydney ("Cate" for Janssen's Simponi) and UK-based Langland (campaign for Bayer's "Sativex") collected the others.
GSW carried the US baton among the Silver Lions, with its Stryker GetAroundKnee integrated campaign taking home one of eight silvers handed out. American shops also collected two of 11 Bronze Lions, including Ogilvy New York for IBM's "Ninja Polymers" and Wunderman RTC for "MSinspiration films: full-length 'Cathy'" in support of Biogen Idec's Tysabri
All in all, slim pickings for the US, which had accounted for 224 of the 517 Pharma entries.
In Health & Wellness, a coveted Grand Prix was awarded to Japan's Dentsu for "Mother Book" in support of Kishokai's Bell-Net Obstetrics. Mother Book is a genius companion book for pregnant woman. Each of its 40 pages – the same number of weeks as the gestation period – gets progressively larger throughout.
Six Gold Lions were awarded in this category: Dentsu Creative X, Dentsu Kansai, Havas Worldwide Helsinki, Leo Burnett Colombia and Leo Burnett Tailor Made Sao Paulo.
The jury also awarded 11 Silver Lions and 15 Bronze Lions. Despite American agencies having submitted 169 of the 906 pieces in Health & Wellness, not a single Lion will be coming back to the US this year.
Pharma Winners
GOLD LIONS
Title

Advertiser

Product

Entrant / Agency

CATE

JANSSEN

SIMPONI

McCANN HEALTH Sydney

TOOTHBRUSH/
SHAMPOO/TEA

BAYER

SATIVEX

LANGLAND Windsor

MIND YOUR MEDS

PARTNERSHIP AT DRUGFREE.ORG

MEDICINE ABUSE PROJECT

HILL HOLLIDAY Boston
SILVER LIONS
| | | | |
| --- | --- | --- | --- |
| Title | Advertiser | Product | Entrant / Agency |
| SEE THE DIFFERENCE | MERCK SERONO | ERBITUX | McCANN HEALTH London |
| THE BOY I USED TO KNOW | TAKEDA | EDUCATION SURROUNDING SCHIZOPHRENIA | REAL SCIENCE COMMUNICATIONS London |
| STETHOSCOPE RADIO ADVERT | AFRICA HEALTH PLACEMENTS | AFRICA HEALTH PLACEMENTS | BOOMTOWN STRATEGIC BRAND AGENCY Port Elizabeth |
| SARAH'S STORY/ YANG'S STORY/IDIS | IDIS | IDIS MAPS | LANGLAND Windsor |
| BASEMENT/PRESENT /CURFEW/MUSTANG | LILLY CANADA | CIALIS | DDB CANADA Toronto |
| STRYKER GETAROUNDKNEE INTEGRATED CAMPAIGN | STRYKER PHARMACEUTICALS | KNEE AUGMENTATION DEVICE | GSW Westerville |
| SUPERFORMULA TO FIGHT CANCER | A.C.CAMARGO CANCER CENTER | PEDIATRIC ONCOLOGY | JWT Sao Paulo |
BRONZE LIONS
| | | | |
| --- | --- | --- | --- |
| Title | Advertiser | Product | Entrant / Agency |
| COCKTAIL CRITTERS | SANOFI PASTEUR | VIVAXIM | SAATCHI & SAATCHI HEALTH Sydney |
| DONUT | JOHNSON & JOHNSON | INVOKANA - DIABETES TREATMENT | AMK HEALTHCARE MEXICO CITY / McCANN MEXICO CITY |
| HARDLY NOTICE | JANSSEN | SIMPONI | McCANN HEALTH Sydney |
| 500 NANOMETERS MAIL | 3M | PETRIFILM | MARURI GREY Guayaquil |
| NINJA POLYMERS | IBM | IBM | OGILVY NEW YORK |
| IDIS INTERACTIVE WEBSITE | IDIS | IDIS MAPS | LANGLAND Windsor |
| MSINSPIRATION FILMS: FULL-LENGTH "CATHY" | BIOGEN IDEC | TYSABRI | WUNDERMAN RTC Washington DC |
| THE GENTLE LAMB IN HER EYES | EVA PHARMA | SILDENAFIL / SEXUAL ENHANCEMENT | TNA DDB EGYPT Cairo |
| GSK OLYMPICS ANTI-DOPING | GLAXO SMITH KLINE | GSK CORPORATE | TBWA PALING WALTERS London / TBWA\LONDON |
| HOPE SOAP | SAFETY LAB | HOPE SOAP | Y&R SOUTH AFRICA Cape Town |
| INVISIBLE THINGS | KYOWA HAKKO KIRIN | KYOWA HAKKO KIRIN | 1-10DESIGN Kyoto / BILCOM Tokyo |
Health & Wellness Winners
GRAND PRIX
| | | | |
| --- | --- | --- | --- |
| Title | Advertiser | Product | Entrant / Agency |
| MOTHER BOOK | KISHOKAI MEDICAL CORPORATION | BELL-NET OBSTETRICS | DENTSU Nagoya |
GOLD LIONS
| | | | |
| --- | --- | --- | --- |
| Title | Advertiser | Product | Entrant / Agency |
| BATTING PRACTICE CENTER 1-4 | MURATA KAMPO CHINESE HERBAL MEDICINE | BAIKA GOFUKU GAN | DENTSU CREATIVE X Tokyo |
| BATTING PRACTICE CENTER 5-6 | MURATA KAMPO CHINESE HERBAL MEDICINE | BAIKA GOFUKU GAN | DENTSU KANSAI Osaka |
| MONSTERS | A-CLINIC FOUNDATION / FRAGILE CHILDHOOD ACTIVITIES | PARENTAL ALCOHOL AWARENESS | HAVAS WORLDWIDE HELSINKI |
| CANCERTWEETS | LEAGUE AGAINST CANCER - BOGOTA | LEAGUE AGAINST CANCER | LEO BURNETT COLOMBIA Bogotá |
| MY BLOOD IS RED AND BLACK | HEMOBA / ESPORTE CLUBE VITÓRIA | ORGAN DONATION AWARENESS | LEO BURNETT TAILOR MADE São Paulo |
| MOTHER BOOK | KISHOKAI MEDICAL CORPORATION | BELL-NET OBSTETRICS | DENTSU Nagoya |
SILVER LIONS
| | | | |
| --- | --- | --- | --- |
| Title | Advertiser | Product | Entrant / Agency |
| MAN | BOEHRINGER INGELHEIM DO BRASIL | ANADOR | BORGHI/LOWE São Paulo |
| THE GERM STAMP | PROCTER & GAMBLE | SAFEGUARD SOAP | SAATCHI & SAATCHI Singapore |
| WATER EYE PERFORMANCE | GLAXOSMITHKLINE SINGAPORE | EYE MO | GREY GROUP Singapore / COHN & WOLFE XPR SINGAPORE |
| DUREX VINYL | RECKITT BENCKISER | DUREX | HAVAS WORLDWIDE London / HAVAS WORLDWIDE LONDON London |
| MY BLOOD IS RED AND BLACK | HEMOBA / ESPORTE CLUBE VITÓRIA | ORGAN DONATION AWARENESS | LEO BURNETT TAILOR MADE São Paulo |
| MY BLOOD IS RED AND BLACK | HEMOBA / ESPORTE CLUBE VITÓRIA | ORGAN DONATION AWARENESS | LEO BURNETT TAILOR MADE São Paulo |
| IF ONLY FOR A SECOND | MIMI FOUNDATION | SUPPORT TO CANCER PATIENTS | LEO BURNETT FRANCE Paris |
| :{TO:) CLEFTTOSMILE | OPERATION SMILE INDIA | CLEFT AWARENESS | OGILVY & MATHER INDIA Mumbai |
| MY BLOOD IS RED AND BLACK | HEMOBA / ESPORTE CLUBE VITÓRIA | ORGAN DONATION AWARENESS | LEO BURNETT TAILOR MADE São Paulo |
| IF ONLY FOR A SECOND | MIMI FOUNDATION | SUPPORT TO CANCER PATIENTS | LEO BURNETT FRANCE Paris |
| IF ONLY FOR A SECOND | MIMI FOUNDATION | SUPPORT AND WELLBEING CENTERS | LEO BURNETT FRANCE Paris |
BRONZE LIONS
| | | | |
| --- | --- | --- | --- |
| Title | Advertiser | Product | Entrant / Agency |
| COMBANTRIN | JOHNSON & JOHNSON | COMBANTRIN MEDICINE | JWT Sydney |
| HEAD 1 | BOEHRINGER INGELHEIM DO BRASIL | ANADOR | BORGHI/LOWE São Paulo |
| HEAD 2 | BOEHRINGER INGELHEIM DO BRASIL | ANADOR | BORGHI/LOWE São Paulo |
| WATER | COLGATE | WATER RESOURCE SAVING | Y&R Lima |
| WATER EYE PERFORMANCE | GLAXOSMITHKLINE SINGAPORE | EYE MO | GREY GROUP Singapore / COHN & WOLFE XPR SINGAPORE |
| BALD FINDER | SESDERMA | SESKAVEL | McCANN MADRID Madrid |
| LOVEVILLE | RECKITT BENCKISER | RECKITT BENCKISER - DUREX | HAVAS WORLDWIDE MILAN |
| THE GREAT ESCAPE | SIGMA TAU | YOVIS VIAGGIO | BEDESCHI FILM Milan / PUBLICIS MODEM Milan |
| DENGUE BOTTLE | MAYNILAD WATER SERVICES | MAYNILAD WATER SERVICES | Y&R PHILIPPINES Manila |
| 8 LIVES | NATIONAL TRANSPLANT RESOURCES CENTRE (NTRC) | ORGAN DONATION | Y&R MALAYSIA Kuala Lumpur |
| BENTLEY BURIAL | ABTO – BRAZILIAN ASSOCIATION OF ORGAN TRANSPLANTATION | BRAZILIAN ASSOCIATION OF ORGAN TRANSPLANTATION | LEO BURNETT TAILOR MADE São Paulo |
| HOPE SOAP | SAFETY LAB | HOPE SOAP | Y&R SOUTH AFRICA Cape Town |
| SMOKING KID | THAI HEALTH PROMOTION FOUNDATION | THAI HEALTH PROMOTION FOUNDATION | OGILVY & MATHER Bangkok |
| PENNY THE PIRATE | LUXOTTICA | OPSM KIDS EYE SCREENING TOOL | SAATCHI & SAATCHI Sydney |
| SUPERFORMULA TO FIGHT CANCER | A.C.CAMARGO CANCER CENTER | PEDIATRIC ONCOLOGY | JWT Sao Paulo |
| 10M² OF LOVE | UNICEF CHINA | BREAST IS BEST | Y&R BEIJING |
Scroll down to see the next article