June 13, 2014
P&G legend urges pharma to follow his creative lead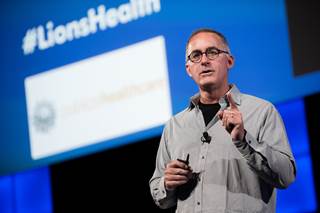 Former Proctor & Gamble CMO Jim Stengel kicked off the first Cannes Lions Health festival with a stirring rallying cry to healthcare marketers—dare to be a little different.
He urged the industry to follow P&G's example under his reign by thinking outside of the box, embracing the value of creative, and looking for inspiration outside of healthcare.
Stengel recalled how his first visit to the Cannes Lions in 2003 was so inspiring that it forever changed the way that P&G would market its brands. "Eleven years ago, everything we did was boring," he said. The rest, of course, is history. "Now everybody wants to work on Old Spice."
Stengel spoke of pharma's poor reputation, insisting that industry "can change that, one company, one brand and one day at a time." He challenged delegates to make a three-fold commitment: to have a big brand idea ("…this doesn't have to come from the C-suite"); to tell a story and tell it beautifully ("…it's a buzzword in the industry, but few are doing it well"); and to build an organization that is energized and engaged ("…give me a purpose, a person who is passionate about it, and a process, and we can change the world").
Scroll down to see the next article