June 15, 2014
Seeing patients as more than the sum of their body parts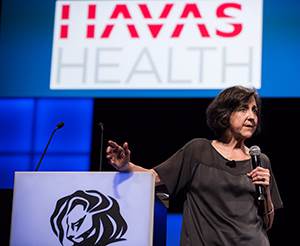 Donna Murphy and Doug Burcin, global CEO's of Havas Health, exhorted delegates to "get up, wake up, move around" before the start of their session. What followed was a more humbling wake-up call.
Rita Charon, a primary care physician and director of the program for Narrative Medicine at Columbia University used paintings by Rothko and references to Henry James to explain the mechanism of narrative medicine. "Narrative medicine [equips] those who take care of sick people with the rigor of how stories work".
Simplistically, this means seeing patients as more than their collection of symptoms and body parts, but as fully fledged human beings. "What is my job as a PCP but to see the peril of being alive?" Charon said.
The more-difficult-to-explain part is that the healthcare provider in essence takes the journey with the patient, and there are consequences to that. Charon related a story of losing a 40-something year old patient to a lung disease, and weeping about it years later with the pulmonologist who also tended to him. "This is the sacred reward, this sorrow," the pulmonologist told her.
In her gentle way, Charon reminded the audience that some of this, at least, was likely at the heart of their decision to enter the profession. "Something has summoned you to be in healthcare," she said. "Much of it has to do with the chance to change lives."
Even as HCPs and those working in healthcare may try to distance themselves from the more difficult passages of care, Charon reminds us of the common reality: "We are human. We have bodies. We are mortal and we will die. Even at Cannes."
Scroll down to see the next article