June 12, 2017
Will We See You in Cannes?

Welcome to Lions Health, season four. MM&M's Live @ Cannes coverage, starting today, is abuzz with stories about all things newsworthy and trending leading up to and during the two-day event.
A dedicated Cannes newsletter will beam all the headlines from the Côte d'Azur (plus daily news and the five things you need to know) across the pond daily, culminating over the weekend of June 17 and 18. (Subscribers of MM&M's editorial newsletters will automatically receive stories about Cannes in the newsletters they are subscribed to. If you aren't yet a subscriber to the MM&M News Brief or the MM&M Weekly Digest, sign up here, and look out for limited edition newsletters on June 17 and 18.)
Going to Cannes? Tweet us (@MMMNews, @Marc_Iskowitz, @Jaimy_Lee) to let us know if you'd like to meet for a drink (or two) or share a view (or two) on what inspired you this year at the Cannes Lions Health International Festival of Creativity.
And stop by the MM&M cabana to see what we and our partner Klick Health have in store. There will be plenty of discussion about healthcare marketing's new creative spirit of integrating disruptive technology, including a panel on Saturday, June 17, led by Jaimy Lee, MM&M's executive editor. Meanwhile, Marc Iskowitz, MM&M's editor in chief, is set to appear on the Health in Focus stage to discuss who – or rather what – is changing creativity.
When you visit MM&M's Live @ Cannes site, you'll see profiles of some of the industry's top thinkers, an analysis examining the role of emotional storytelling for healthcare brands, and a series of video profiles MM&M produced in partnership with Klick Health telling the stories of people using creativity to solve problems in healthcare.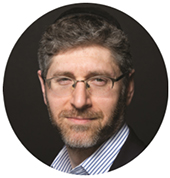 Marc Iskowitz is editor in chief of MM&M.
Scroll down to see the next article