October 01, 2015
Best Professional Print Campaign: 2015
Download:

BOTN Best Professional Print Campaign.pdf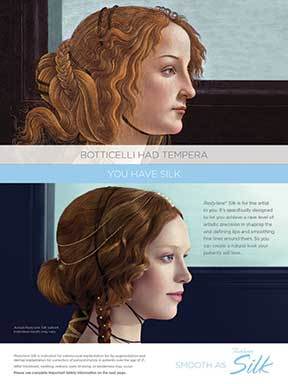 Gold
Restylane Silk
Agency: CAHG
Client: Galderma
Appealing to aesthetic dermatologists' artistic sensibilities through comparison to famous artists who portrayed feminine beauty helped Galderma's Restaylan Silk (a new formula of injectable filler for shaping lips and smoothing fine lines) achieve sales 200% over forecast through the first quarter of this year.
"Doctors who work in this category take great pride in not only their technical expertise as injectors, but also in their aesthetic sense and their conviction that what they do blends both science and art," a CAHG representative said of the strategic insight.
The agency secured rights to famous portraits by contemporary painter Alberto Vargas, Renaissance artist Botticelli and the 20th-century Polish artist Tamara de Lempicka. "The effects achieved by each artist are compared to the effects aesthetic dermatologists can achieve using Silk.
The creative features one of the artist's portraits next to a similarly styled photo of a model (who was injected with Silk prior to the shoot). Copy drives home the comparison. For example, copy for the Vargas comparison reads: "Vargas had airbrush. You have Silk."
"A clean and inspiring way to engage professionals in the beauty space," said one judge.
Additional remarks by judges included praise for the unique approach and for astutely playing to aesthetic dermatologists' perfectionism.
Silver
Soolantra: Introducing a Tough Topical Print Campaign
Agency: McCann Echo
Client: Galderma
This campaign's effectiveness and creativity impressed judges. They also made positive comments about the "good versus evil" story used to illustrate Soolantra's superior efficacy in treating rosacea and the cohesiveness of the overall multichannel campaign.
At awards submission time, prescriptions averaged nearly 5,000 weekly and total revenue was tracking above forecast.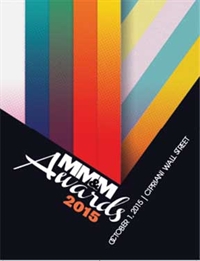 Finalists
■ Area 23 and The diaTribe Foundation for The State of Diabetes
■ CAHG and Galderma for Restylane Silk
■ CDM Los Angeles and Acadia Pharmaceuticals for Holding Back
■ LLNS and DePuy Synthes for TruMatch
■ McCann Echo and Galderma for Soolantra: Introducing a Tough Topical Campaign
Scroll down to see the next article