October 19, 2017
GOLD | Best Agency Self-Promotion of 2017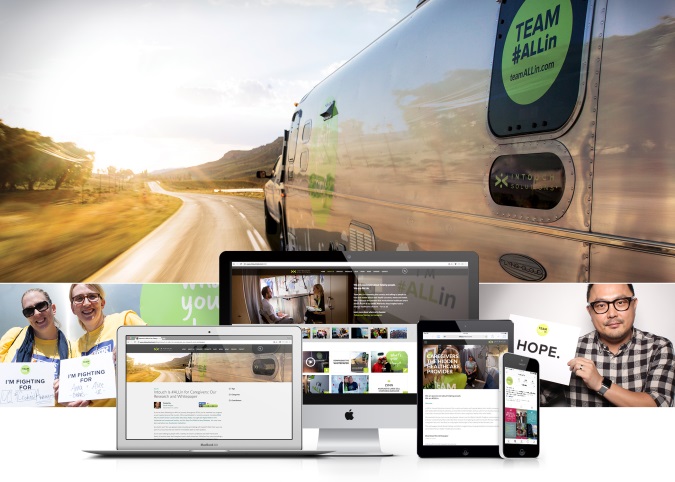 Intouch Solutions
#ALLin Program
---
For its aptly named #ALLin program, Intouch Solutions outfitted an Airstream trailer to serve as a mobile video studio and then traveled 3,800 miles across the U.S. to interview a variety of patients and caregivers about their challenges.
As of awards submission time, Intouch had attended over 45 events and raised awareness for 40 unique causes; collected more than 30 video interviews, and hosted #ALLin accelerators to solve problems identified.
As the trip unfolded, the importance of caregivers' roles and their need for support became clear. So Intouch partnered with Digital Health Coalition to research the impact of caregiving and the role of tech. Intouch then presented the findings at Digital Pharma East. The research also led the firm to create and fund a HelpMeCare app for caregivers. Judges were blown away, praising the idea and Intouch Solutions' commitment.
"This was a big idea and a big commitment that appeals internally and externally and creates distinctive and leverageable point of view for the agency," one judge explained. "Well done."
An Intouch representative said the campaign idea was sparked by the agency's purpose statement: Hacking Healthcare for the People.
The #ALLin journey was shared across multiple integrated channels. TeamALLin.com houses photos, stories from each stop, patient, and caregiver video interviews and more.
Content and updates were also shared via Instagram, Facebook, LinkedIn, Twitter, email, and Intouch Solutions' main website and blog.