October 19, 2017
GOLD | Branded Website for Healthcare Professionals of 2017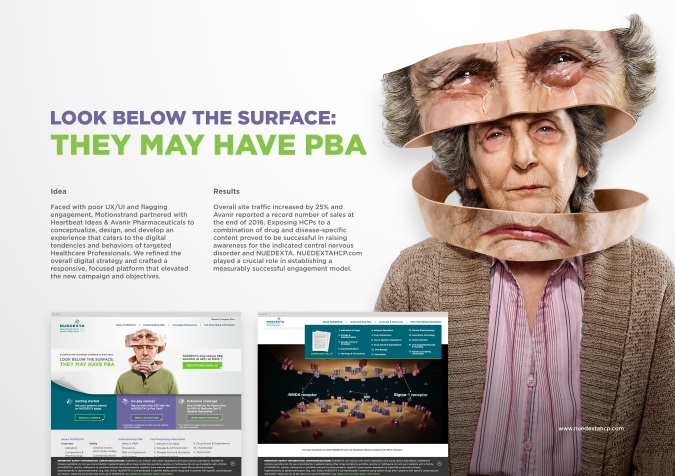 Motionstrand and Avanir Pharmaceuticals
---
Judges found a lot to like about this entry for Nuedexta, including integration of content and tech strategy, research, creative elements, site navigation, and results.
A representative from Motionstrand said the company partnered with Heartbeat and Avanir to improve the site's user interface and user experience.
An exhaustive study of HCP online behavior was leveraged against existing site metrics. The research helped Motionstrand develop a streamlined experience that caters to the digital behaviors and tendencies of targeted HCPs.
Specific priorities included driving traffic to the prescribing information and mechanism of action pages, as well as optimizing the site for a responsive experience across multiple devices. Up-dating the site's underlying digital framework and optimizing all elements that feed into the primary platform helped support the new Peeled Head effort for Nuedexta.
"By refining the overall digital strategy and crafting a responsive, focused experience, we elevated the new campaign materials and created an optimized platform as a central component of a multichannel marketing campaign," explained a Motionstrand representative.
The creative execution was a joint effort between AbelsonTaylor, Heartbeat, and Motionstrand.
Results included increases in site traffic (25%), engagement, and prescriptions. According to a Motionstrand representative, providing HCPs with a combination of drug-specific content and disease-specific content helped raise awareness of indicated central nervous system dis-orders and of Nuedexta.
The HCP website played a crucial role in record sales in 2016.