October 19, 2017
GOLD | Digital Initiative for Consumers of 2017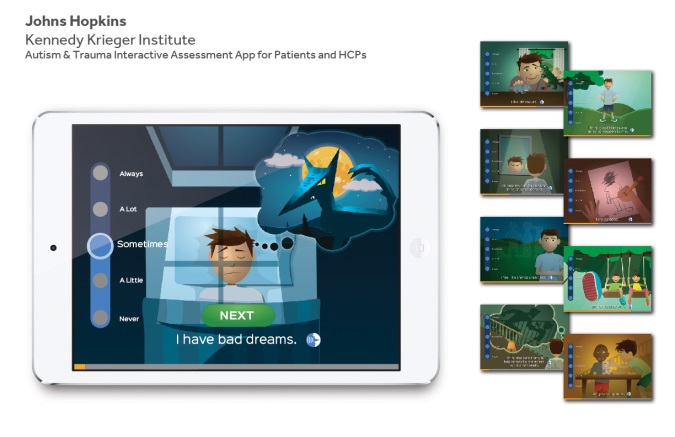 HCB Health and Johns Hopkins/Kennedy Krieger Institute
Autism & Trauma Interactive Assessment App
---
Many children with autism spectrum disorder (ASD) suffer psychological trauma, including violence and neglect, given their challenges with social communication and regulating emotion.
Communication challenges can also make it tough to diagnose and treat these children. Existing symptom rating scales and reports from parents and observers have been proven inaccurate, and Johns Hopkins' Kennedy Krieger Institute needed to develop a reliable self-report format.
HCB created an app that autistic kids, who have experienced trauma, can use by themselves with minimal guidance from a care provider. It features 38 custom illustrations that assess both severity and type of trauma. Assessment results help care providers develop appropriate treatment.
Judges loved the app and appreciated the team's careful development work. They were particularly impressed by the smart use of graphics to elicit responses from children with autism.
"This is an innovative and creative approach and a significant improvement over what currently exists," explained one judge.
A primary challenge was developing the app to work for kids aged 4 to 18 with varying emotional and intellectual levels. Using illustrations was deemed the best approach given the difficulty ASD kids can have identifying emotions and the disturbing and extremely sensitive nature of some of the assessment subjects. At awards entry time, the app was in beta use and receiving overwhelmingly positive response. The team was hoping for an NIH grant to fund further development.