October 19, 2017
GOLD | Orphan Product Marketing Initiative of 2017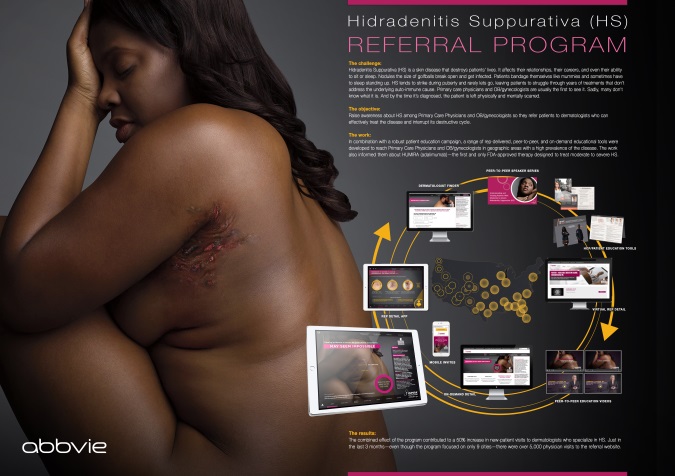 Publicis LifeBrands Medicus and AbbVie for Humira Dermatology
Hidradenitis Suppurativa Referral Program
---
Hidradenitis Suppurativa (HS) is a skin disease marked by golf-ball size nodules that break open and get infected. It's extremely challenging for patients as it can negatively impact their relationships, jobs, and even their ability to sit and sleep. Humira is the first and only FDA- approved therapy designed to treat moderate to severe HS.
A representative from Publicis Life-Brands Medicus noted that primary care physicians (PCPs) and OB/GYNs are usually the first doctors to see cases of HS, but they're not always able to diagnose it. In fact, they sometimes misdiagnose it as an STD or a staph infection.
This campaign targeted both HCPs and patients with the primary objective of raising awareness of the disease, its causes, and treatments. On the professional side, doc-tors were encouraged to learn more about HS so they could refer patients to HS-treating dermatologists.
The creative included clear and accurate photos depicting the condition. Judges found it impactful and tasteful. "This campaign combined gorgeous, tasteful creative with a smart strategy and comprehensive programming," one judge said.
The results speak for themselves as the combined effect of the program contributed to a 50% increase in new-patient visits to dermatologists who specialize in HS.
Even though the program focused on reaching PCPs and OB/GYNs in just nine cities with a high prevalence of the disease, in just three months the referral website got over 5,000 physician visits.
"Excellent across the board," explained a second judge. "This program was very moving and impactful."