October 19, 2017
GOLD | Product Launch of 2017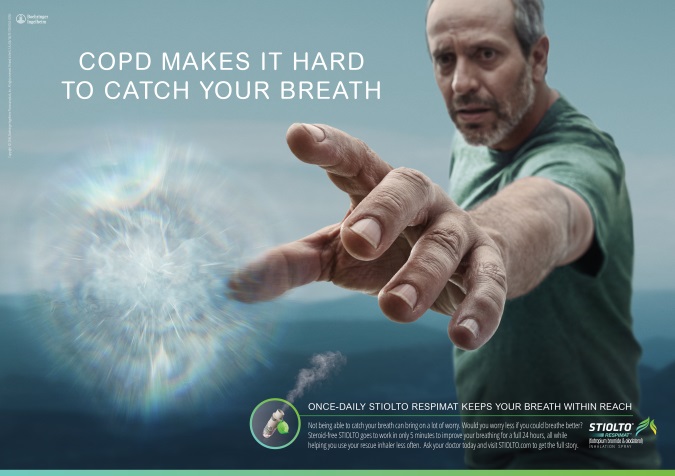 FCB Health and Boehringer Ingelheim
Within Reach — Stiolto.com
---
Judges were impressed by the unique approach this team took to launch Stiolto Respimat, Boehringer Ingelheim's new treatment for chronic obstructive pulmonary disease (COPD).
The basis of the idea was to allay COPD patients' fear that they won't be able to catch their breath through depictions of people literally catching breath. It's a "great idea that's tricky to execute," said adjudicators who loved the concept and its execution.
"This was the most original campaign idea we saw — it pushed the boundaries and didn't use lungs" one judge said.
"This was a brave attempt and direction in a category filled with lungs," noted a second judge. "It's a memorable approach."
Additional adjudicators applauded the team for positioning the product emotionally and for differentiating it, not only within the category criteria, but also within pharma advertising overall.
An agency representative noted that leveraging true insights into patient concerns really helped break through category norms.
The overall campaign presented a cohesive story and showcased the breath across channels.
Judges felt the creative concept translated beautifully across mediums — from the TV spot to digital channels to print.
After the TV spot was tested in pilot cities, website traffic in those cities increased 71%.
New prescription rates also increased in pilot cities. Additional results included nearly 1 million banner clickthroughs and an improved brand recall rate.